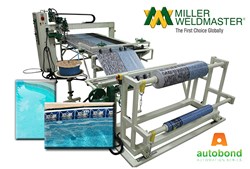 Navarre, OH (PRWEB) September 28, 2013
Miller Weldmaster is now moving to meet the production demands of pool makers worldwide. The company is now offering the 116 Pool Beading and 118 Custom Sidewall Systems, machines which incorporate automated, state-of-the-art production capabilities to weld pool beading to the sidewalls of pools with ease and efficiency. These systems are designed to help any pool maker increase their production output and reduce their inventory costs, while increasing the efficiency and timeliness of any production process.
The 116 Pool Beading System enhances production outcomes with its ease of use. It's advanced hot wedge technology enables quality material welding at accelerated production times, while the easy-to-load unwind for pool vinyl and bead dispenser enable accurate product dispensing and placement. The 116 Pool Beading features a motor-driven conveyor line for effortless material handling and alignment, making production easier than before.
The 118 Custom Sidewall System has all of the same great benefits of the 116 Pool Beading system and more. The 118 will weld pool beading to the custom border while simultaneously welding the custom border to the pool sidewall. It eliminates the need for a pool maker to carry multiple material patterns, cutting back on inventory. Most importantly the 118 will manufacture one product liner at a time or come off roll based on manufacture process demands.
Miller Weldmaster can build each machine to any pool maker specification and can help automate your pool wall production, increase product output, keep up with demand and reduce material handling.
About Miller Weldmaster
Miller Weldmaster, the first choice globally of all industrial fabric welding solutions, has offered rotary hot air, hot wedge, and impulse welding equipment to the industrial fabric and thermoplastics industries for forty years. For the fabrication and automation of various products from awnings to truck tarpaulins, to inflatable boats, Miller Weldmaster has developed many of the first advancements in heat sealing technology. The company's historical record of industrial "firsts" demonstrates its ability to research, design, and build solutions using the most current and innovative features of the industry. Having sold machines in over 100 nations around the world, and with distributors in 20 countries, Miller Weldmaster Corporation is a leading international manufacturer and provider of solutions for plastic welding machines, with a commitment to customer satisfaction. The company is headquartered in Navarre, Ohio, USA.