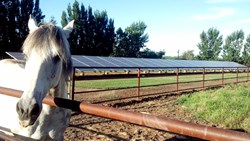 Rural properties are not at all intimidating to us.
Murrieta, CA (PRWEB) September 28, 2013
Hosted by Ambassador Energy and facilitated by solar professional, Mark Ambrose, the seminar will cover, but is not limited to the following topics:

When ground-mounted systems are a benefit
HERS ratings in 2014 - Why this will significantly affect your property values
Solar equipment – Pros and Cons of varying technology
Solar financing – unraveling the mysteries around leases, loans and PACE/HERO
The 'Ranch' seminar topic is a passion for founders of Ambassador Energy, who live on a ranch on the Santa Rosa Plateau in Southwest Riverside County. "Not only have we lived the farm life for the past dozen years, but we also cut our teeth building ranch properties as a General Contractor before we got into the solar business years ago," said Kelly Smith, President of Ambassador Energy. "So, rural properties are not at all intimidating to us as it relates to solar applications. We know how to navigate wire runs, trenching, sub-electrical panels, granite boulders, easements, permitted/unpermitted structures, and all of the building codes associated with ground mounts and unconventional solar installations.
We are also off-grid solar specialists. While they are far less common than grid-tied, we do find ourselves working with folks who either don't want the expense of pulling power to their property or simply chose to be energy-independent. We have found it rare, and are proud of the fact that we know both on- and off-grid solar the way we do."
In the Solar for Ranches workshop, Ambassador Energy staff will speak to system design, equipment types and variables, utility cost-saving solutions, the changing rules of property valuations, the ins and outs of financing, and more. All will take place in Ambassador Energy's training facility, where the audience may conveniently see and touch solar equipment and ask lots of questions in a comfortable setting without the pressure of having a solar salesperson in their home.
Seminar details:
Solar for Ranches
Cost: Free
Wednesday, October 9th - Doors open at 5:30pm. Program 6:00pm to 7:00pm.
Ambassador Energy Training Facility
24630 Washington Avenue, Suite 102
Murrieta, CA 92562
Reserve your seats online, email rsvp(at)ambassadorenergy(dot)com or call 866-586-1840.
Refreshments will be provided. Bring your electric bill to win a prize for the 'Highest Electric Bill of the Evening'!
About Ambassador Energy
Ambassador Energy [AE] has a three-pronged business model, which includes Ambassador Energy College Solar Training, the Ambassador Energy Agency Program and Ambassador Solar Sales. On staff are NABCEP Certified PV Installers, NABCEP Certified PV Technical Sales professionals [Fulgham/Kelso] and multiple NABCEP EL graduates. AE holds California licenses General Contractor B, C10 Electrician and C46 Solar. Ambassador Energy is IREC/ISPQ accredited. AE Agencies are nationwide. Ambassador Energy EPC installs PV systems throughout California and the US.
Like us on Ambassador Energy on Facebook.