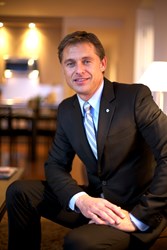 New York, New York (PRWEB) September 30, 2013
Furnished Quarters, the largest provider of temporary furnished apartments in New York, today announced that Brian Owen Terry has joined the Furnished Quarters' executive management team as Vice President of Operations. Terry will report directly to Steve Brown, CEO of Furnished Quarters.
Terry brings to the company over 20 years of experience in the hotel and corporate housing industry, with extensive experience in both executive leadership and hospitality management. Prior to joining Furnished Quarters, Brian most recently led the Northeast Regional operations for Island Hospitality Management, overseeing and revitalizing 15 hotel properties from Washington DC to Maine. Previously, Mr. Terry oversaw the Northeast Region at corporate apartment provider BridgeStreet as Vice President of Northeastern markets.
After starting his career in the hospitality industry in 1990 as Rooms Division Manager with Interstate Hotels and Resorts, he later held positions at Interstate including Director of Human Resources, General Manager, and Regional Director of Operations. In the latter position, Terry directed both the sales and operations teams of 18 Marriott, Hilton, Hyatt, and Starwood-branded hotels.
Terry also has won several industry awards for service excellence, including Marriott's Presidents Award, and has served on the Board of The Capital Pride Center.
"Our executive team is committed to leading the industry as a top provider of furnished apartment rentals, and Brian's executive management experience in the corporate housing and hospitality industry is a perfect fit for our business," said Steve Brown, CEO of Furnished Quarters. "We're excited to welcome him to Furnished Quarters' management group as a trusted resource in the regional and global corporate apartment market."
Furnished Quarters is an independently owned and operated provider of stylishly designed and fully equipped, temporary furnished apartment rentals both nationally and globally, and the largest provider of temporary furnished housing in New York City. Furnished Quarters also offers a diverse portfolio of temporary furnished apartments in New Jersey, White Plains, Connecticut, and the Greater Boston area. Established in 1998, Furnished Quarters is a founding member of GO Furnished Housing Providers, a consortium of best-in-class temporary housing companies offering one-call access to apartments worldwide. For more information visit furnishedquarters.com.
Contact:
Robin Spindel
Email: Robin.Spindel(at)furnishedquarters(dot)com
Phone: 212-367-9400, ext. 4333