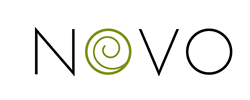 Minneapolis, Minnesota (PRWEB) September 30, 2013
There's a new restaurant being built in Bemidji, Minnesota. Novo (meaning "new" or "young" in Portuguese) will serve fine food and will feature a cozy, modern atmosphere; but it is certainly no ordinary restaurant. The small establishment is going to be outfitted with a suite of customized software applications developed by Minneapolis app development company, Appmosphere, Inc. Developed for the iPad and iPad Mini platforms, these apps will assist everyone from the host to servers, cashiers, bartenders, cooks, platers, and managers. Designed to ease issues in the restaurant, minimize paper usage, and offering managers sweeping control over the business, the Novo apps are certainly an exciting development for the culinary world.
As a customer at Novo, the technology won't be in your face. In fact, for many, it'll hardly be noticeable. But the savvier customers that choose to participate in the restaurant's technological initiative will surely be rewarded. Appmosphere isn't just creating apps for Novo's internal systems, but for their clientele as well. The Novo customer app will be rolled out in two phases. The first will simply allow customers to browse an interactive menu, and get mapped directions. But soon after, upon the second release, users will receive coupons and deals for simply having the app.
Appmosphere wasn't chosen at random as the developer for this project. Novo's parent company, Lueken's Village Foods is already in development in several projects that will act in much the same way as the Novo apps, except will integrate business aspects and ease communications among managers and staff. Lueken's, which recently became an employee-owned business, is a landmark of the Bemidji area, and have already shown themselves to be thought-leaders in the realm of mobilizing and streamlining retail business. Appmosphere is currently in development on these apps as well, which are scheduled to be begin being released this year.
About Appmosphere, Inc.
Appmosphere is a cutting-edge, full-service provider of mobile application development and marketing strategies. Their vision is to utilize the best technologies to improve people's lives through useful, relevant, and efficient software tools.
Appmosphere was founded in 2007, putting them at the beginning of the mobile software development revolution. As smartphones have evolved, so have they; Appmosphere has remained at the forefront of all new platforms and technologies.
For more information, visit http://www.appmosphereinc.com.