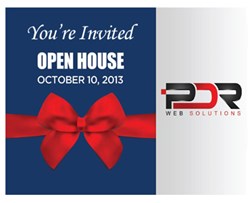 Baltimore, Md. (PRWEB) September 30, 2013
PDR Web Solutions has recently moved from the lower level of the Pot Spring Professional Center to the top level of the Timonium Green Business Center and is hosting an open house to celebrate this occasion.
"We grew exponentially over the past year and it was time to move to a larger space. Our new office accommodates all of our staff and has sufficient room for growth," commented Jonathan Passley, president of PDR Web Solutions.
He mentioned that besides ample space, the new office is also conveniently located: the building is easily accessible from the I-83 highway (exit 16B) and is only a short drive away from Baltimore, Md. Located at 108 W. Timonium Rd., Suite 302, Timonium, MD, PDR Web Solution's new office is where the open house will take place.
The event starts at 4 p.m. Oct. 10 and will last until 6. p.m. The ribbon cutting ceremony organized with the help of the Howard County Chamber of Commerce is planned for 4:30 p.m.
PDR Web Solutions invites all to stop by their office during the open house for refreshments and an informal networking opportunity. All attendees are asked to RSVP for this free event online or by calling 410-560-7185.
About PDR Web Solutions:
PDR Web Solutions is an MBE-certified web design and internet marketing company based in Timonium, MD. The company's mission is to work with clients as strategic partners to generate leads and improve their online presence. PDR Web Solutions serves clients in several industries and locations throughout the U.S. For more information, please visit company's website at http://www.pdrwebsolutions.com.