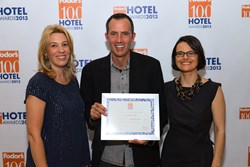 This marks the first time that a New Orleans hotel has achieved this accolade.
New Orleans, LA (PRWEB) September 27, 2013
Fodor's Travel, the leading name in travel guides for 77 years, today announced that New Orleans' Hotel Maison De Ville has been recognized as a 2013 Fodor's 100 Hotel Award winner. This distinction designates Hotel Maison De Ville as an outstanding hotel as selected by Fodor's editors and travel experts, recognizing high style, excellent service and a one-of-a-kind stay for guests. This marks the first time that a New Orleans hotel has achieved this accolade.
Each year, Fodor's Travel invites their roster of 500 local contributors around the world to nominate the best hotels in their destinations. Fodor's senior editorial team deliberated on over 4,000 Fodor's Choice picks and new property reviews, poring over the list for months and narrowing their top selections in eight categories reflecting 2013's travel trends:
Creative Conversions — Adaptive re-use offers new lives to historic buildings;
Enduring Classics — Iconic, landmark hotels with timeless appeal;
Home Suite Homes — Intimate pied-à -terres that make guests feel right at home;
Culinary Gems — Hotels with onsite restaurants helmed by top toques;
Exotic Hideaways — Destination hotels for a trip of a lifetime;
Local Characters — Convey an immersive sense of place from décor to activities;
Sleek City Addresses — Glossy city hotels that offer high style and first rate amenities;
Blissful Beach Retreats — Best beach spots, all-inclusives to beachfront bungalows.
"At Fodor's, hotels are more than our lifeblood—they're our passion. With every stay, we obsess over design choices, service, and amenities," explained Arabella Bowen, Fodor's Travel executive editorial director. "To compile the Fodor's 100 list, we look for properties within emerging destinations, trends our editors have been seeing throughout the year, new and noteworthy hotels and enduring favorites to create a list that will inspire all types of travel and travelers."
As a 2013 Fodor's 100 Hotel Award-winning property, Hotel Maison De Ville will be featured on http://www.Fodors.com and in a free interactive eBook, available in the iBookstore. A complete list of all 100 selected hotels is available at http://www.fodors.com/hotel-awards/2013.
"We are honored and proud of Hotel Maison De Ville's inclusion in such a short list of prestigious and exciting hotel destinations by Fodor's for 2013. For me personally, as well as our team of dedicated people, this is a representation of our labor of love that we enjoy sharing with those who stay with us from around the world," stated hotel director, Richard Poe II.
Fodor's Travel covers over 7,500 destinations and more than 17,000 of the best hotels around the globe. Fodor's editors' decades of experience help take the guesswork out of planning, recommending only those hotels, restaurants, and things to do that meet their high standards, and designating the absolute musts with "Fodor's Choice." Whether travelers use print guidebooks, eBooks, mobile apps, or Fodors.com, Fodor's provides highly curated advice on how to travel smarter, including the best art and cultural offerings, where to eat and stay at every price point, and tips and strategies for an authentic and immersive experience.
###
About Hotel Maison De Ville:
Located in the heart of the historic French Quarter in New Orleans, Louisiana, Hotel Maison De Ville is a true representation of Southern hospitality in a small luxury boutique hotel. Believed to be built in the 1780's and later converted to a hotel in 1944, Hotel Maison De Ville was fully renovated and restored in 2012, maintaining its old New Orleans charm and characteristics. It was home to both Antoine Peychaud and Tennessee Williams. Famous past guests include Michael Jackson, Elizabeth Taylor, Paul McCartney, Robert Redford, and former First Lady Bird Johnson. For reservations and information, call 504.324.4888 or go to http://www.MaisonDeVille.com.
About Fodor's Travel
Fodor's Travel, an imprint of Random House LLC, a Penguin Random House Company, is one of the world's leading providers of travel information. Covering over 7,500 worldwide destinations, Fodor's guidebooks and website, Fodors.com, have provided the most up-to-date, accurate information for travelers since 1936. Written by a vast team of global correspondents, Fodor's provides travelers with engagingly written, locally reported, and absolutely indispensable travel guidance. http://www.Fodors.com.