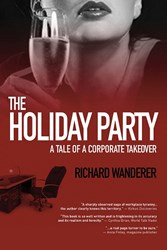 Reads like a movie.
Los Angeles, California (PRWEB) September 30, 2013
Richard Wanderer, author of The Holiday Party (A Tale of a Corporate Takeover) http://www.theholidayparty-ataleofacorporatetakeover.com said, "It might sound, at first, like a bit of a stretch but as the World Series is scheduled to come up on October 23rd, I'm reminded I see certain similarities between loyal company employees and baseball fans of the home team." Wanderer continues, "A fan, like a loyal company employee, wants their team to win. If their team wins, the fan receives bragging rites and a great feeling of local pride. A loyal employee of a company, just like a fan with their team, empathizes with the triumphs of their company and can be very unhappy when the company loses a major business opportunity."
Author Wanderer goes on to observe, too, that both the fan and the loyal employee are powerless to prevent the owners of the team or the owners of a company from changing their respective management. In the case of the baseball team, the fan can't stop the trading of their favorite players or the forced departure of a manager. In the business world, the loyal employee can't prevent the sale or takeover of their company and the resultant changes it usually brings. In both situations, the spirit of the fan and the spirit of the loyal employee can be dramatically diminished.
In the fictional suspense novel, The Holiday Party (A Tale of a Corporate Takeover), a huge for profit only, media conglomerate takes over a family owned national magazine which was run in an employee friendly manner. Employees thought of it as their home away from home - it was so nice to work there. Then the conglomerate comes and institutes a Draconian thrift regime and fires loyal employees of the takeover magazine for little or no cause (mostly because in the eyes of the takeover conglomerate they make too much money). Their friendly immediate management is soon gone. The employees are now economic victims with families to support. Their efforts had made the magazine a profitable enterprise and ironically a great takeover target. The loyal employees are no longer cheering for the success of their company. "Once again", Wanderer says, "corporate greed has shown its face."
Richard Wanderer's background for writing his fictional suspense novel about the takeover of a national magazine and what happens to the lives of its employees after the takeover is that he spent more than 50 years of his life working in the advertising sales departments of major national magazines and newspaper chains in NYC and LA. His characters and scenarios are often an amalgamation of people and situations he has come in contact with through his personal experiences as well as a writer's imagination. Later in life, while working full time and raising a family, he also became a member of the California Bar.
Website for the scheduling of the World Series:
http://www.breakingnews.com/topic/mlb-playoffs-2013
About Richard Wanderer's Novel:
In The Holiday Party (A Tale of a Corporate Takeover) http://www.theholidayparty-ataleofacorporatetakeover.com the author tells his story from the viewpoint of the loyal employees who helped build the magazine into a prominent success story only to see strangers take it over. One of the characters in his fictional suspense novel, through his actions, informs the readers as to how one may cope with this type of situation. It has received many strong reviews: Kirkus Reviews calls it, "A sharply observed saga of workplace tyranny"; San Francisco Book Review calls it, "Page-turner"; MidwestBook Review, "Highly recommended"; IndieReader, "Suspenseful"; Bookviews by Alan Caruba, "Leaps off its pages"; Cynthia Brian of World Talk Radio, "This book is so well written and is frightening in its accuracy and its realism and ferocity." Published by Two Harbors Press, the novel is in softcover and also available on Kindle and Nook.
Contact: Patricia O'Brien, St. Bernard Public Relations (818) 986-7777