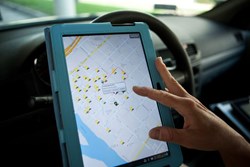 This module allows for parking operations to set their own grace period policy for ticket issuance and it only shows spaces that meet the policy criteria to their on-street personnel. - Rick Barchard, Director of Sales at Infinite
Cedar Rapids, IA (PRWEB) September 30, 2013
Infinite Computing Systems Inc., a global technology and system integration firm and Microsoft's Public Sector Division agreed to jointly market Infinite's ParkAide® suite of parking management system products to cities and universities across the U.S. Infinite is a Microsoft® Gold Partner.
ParkAide® will be part of Microsoft's CityNext initiative that empowers people—whether governments, citizens, or businesses—to transform their cities and their future. "Through our CityNext initiative, Microsoft customers can take advantage of a broad portfolio of products and technologies, a global network of partners and applications like ParkAide," said Kimberly Nelson, Executive Director eGovernment and Government Solutions at Microsoft.
ParkAide is an integrated product platform that delivers real-time data, direct messaging and video to a parking operations dashboard with accompanying mobile applications for on-street personnel.
Infinite has built the ParkAide Dashboard (patent pending) with the Microsoft .NET Framework by creating a modular architecture called the Parking Data Aggregation and Standardization Library (PDASL). It is vendor agnostic which means it can be used with almost any on-street and off-street systems a client uses. The application provides a single operational view of data, maps, messages and video.
Since ParkAide is a monthly subscription service on the Azure Cloud, clients can optimize their operations and revenue without any large investment in hardware infrastructure (no sensors required) or software. ParkAide runs an Azure instance for each customer which makes customizations easy.
The ParkAide application provides integrated, real-time meter information, real-time smart alerts, on-street mobile interfaces for messages in and out, and personnel location and tracking.
The dashboard uses Bing Maps to show meter data and off-street systems status and occupancy, messages and video. Infinite has built the system in modules that sit inside of an intelligent operational dashboard that provides parking operation managers a much better understanding and ways to manage all their on-street and off-street ecosystem assets from a single operations center. Parking system managers always have an up-to-the-minute view of all aspects of their operations by using ParkAide.
Operational installations have shown at least a 20% efficiency improvement in personnel performance and the potential for a 30% revenue increase with its mobile StreetView module.
"This module allows for parking operations to set their own grace period policy for ticket issuance and it only shows spaces that meet the policy criteria to their on-street personnel," said Rick Barchard, Director of Sales at Infinite. "StreetView also updates our SQL database with information about space availability for our consumer parking availability application."
Live Data for On-Street Personnel, Operations, and the Public
For years parking operations have been struggling with managing diverse proprietary hardware and software systems. To try and get a current real-time view of all systems and personnel is nearly impossible due to all the logging in and out into backend systems that do not "talk" to one another.
ParkAide offers parking operations a unified view of disparate parking vendor's data and hardware status in a centralized dash board along with mobile applications to unify staff locations, alerts, predictive ticketing, and mobile parking availability for the consumer.
Register for a FREE 60 Day Trial of ParkAide.
Visit Booth # 410 at the National Parking Association Convention, October 7-9, 2013, at the Hyatt Regency Chicago and sign up for a free trial installation of ParkAide for your parking system.* You also can register for the free trial at http://www.parkaide.net.
*Participation is open to cities, universities/colleges, airports, digital parking on and off street companies, and parking management companies. Entries must be received by October 9th, 2013. Requires digital meters. NPA Booth #410
About Infinite Computing Systems
Infinite Computing Systems, Inc. is a global provider of custom software solutions and SCADA based web software applications. It has a long and distinguished history of providing and displaying real data from disparate systems and controls. The company, with resources on several continents, provides innovative custom software solutions and IT services to businesses and government agencies around the world. Since 1997, Infinite has delivered exceptional value to its customers by combining onsite, local experts with the strength of global development resources. For more information, visit http://www.infinite-usa.com, or call (800) 297-7530.