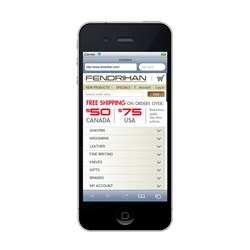 Toronto, Canada (PRWEB) September 30, 2013
More and more people in North America are using mobile devices to browse the Web, presenting businesses with a challenge to either adapt or miss out on the inherent possibilities. The Canadian shaving specialist is no exception to this rule. Having recognized that mobile users need mobile sites to provide them with optimal or at least usable viewing experiences, Fendrihan is relaunching its site for enhanced responsiveness. In this manner, Fendrihan hopes to provide a simple and intuitive shopping experience for all of its potential clients, no matter their preferred means of connecting to the Internet.
In Canada, the need for mobile sites is clear and simple because the number of mobile users continues to grow at breakneck speeds. In fact, there are estimates that up to 56 percent of the adult population in Canada use smartphones in 2013, contrasted against a figure of 33 percent in 2012. For businesses, there is also the important fact that more and more mobile users are using their smartphones and other mobile devices for shopping-related purposes, meaning an increase in the need for mobile sites.
Fendrihan's response to this problem is one of the simplest but nonetheless effective solutions out there. To sum up the process, its site is responsive, meaning that it solicits information about the user's platform of choice and then uses that same information to tailor its presentation for an optimal viewing experience. For example, if the user is using an iPad to browse the site, it can read its technical information and then use it to change dimensions and other details of the page to better fit a small screen. Otherwise, Fendrihan's mobile site provides the same functions as its site for PCs, meaning that users can use it to browse its catalogue, log onto their accounts, shop for items, and so on.
Launching the mobile site is one more step in Fendrihan's endeavor to provide the most convenient shopping experience for some of the finest men's grooming products in the world. Both current and potential clients can now look through its catalogue at any time, whether that happens to be lunch, in transit, or some other location where using a PC is either impossible or inconvenient or both.
About Fendrihan:
Fendrihan is the premier Canadian online retailer of shaving products, boasting a comprehensive selection featuring some of the most famous names in the business plus rare and hard-to-find products from manufacturers all around the globe. In recent times, a series of introductions has seen its selection expand to include more personal care products, fine writing instruments, European leather accessories, and even a superb collection of kitchen knives from the famous Japanese manufacturer, KIYA.