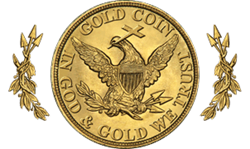 Lots of investors grew up in the days of paper and ink and that's all they know.
Salt Lake City, UT (PRWEB) September 30, 2013
U.S.-based gold coin trading platform GoldCoin.net spokesman Cliff King announced today that the company will be holding a month-long promotion geared towards helping investors become more computer-savvy. October is National Computer Learning Month and, according to King, one doesn't have to look too far to find an investor who could use a refresher course in technology.
"Lots of investors grew up in the days of paper and ink and that's all they know," King said. "The Internet has made it easier to find a gold dealer, check that dealer's reputation, price-check that gold dealer and then get in touch with the firm to buy and/or sell. As a discount gold coin dealer that's been in business since 1992 we are proud to be older than Google and we've done a pretty good job of keeping up with technology, and we want our clients to see the financial benefits of learning about computers."
King says the promotion will involve everything from ounces of silver at one dollar over spot to investment-grade certified gold coins at 5 percent below their PCGS listed values. "As always shipping, insurance and delivery is free and since we are a large-volume dealer we do have a mimimum initial investment requirement of $5,000 for certified coins, 500 ounces of silver bullion and 10 ounces of gold bullion.
Gold Coin (GoldCoin.net) has over two decades of experience advising household investors on smart physical gold and silver investments and gold coin IRA and 401k plans. They buy and sell all types of precious metals and offer free home delivery. For more information or a free "Gold Coin Starter Kit," visit http://www.goldcoin.net or call 1-800-425-5672 today.