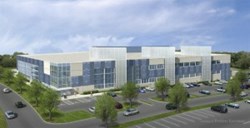 We are pleased to accept this award and look forward to continued growth at our brand new Data Center in Fairfield County, CT.
Shelton, CT (PRWEB) September 30, 2013
Cervalis continues to celebrate tremendous growth year over year. This continued growth has allowed Cervalis to once again be named as one of the fastest growing technology companies in the IT Services category in the Marcum Tech Top 40 Awards ceremony. This ceremony ranks the 40 fastest growing companies in the categories of manufacturing, environmental technology, IT Services, Life Sciences, New Media/Internet/telecommunications, and software by the Connecticut Technology Council and Marcum LLP. The award was presented to Michael Boccardi, President & CEO, during the Tech Top 40 awards ceremony organized by the Connecticut Technology Council and Marcum LLP. Rankings are based on the percentage revenue growth over four years from 2008-2011.
About the Connecticut Technology Council
The Connecticut Technology Council is a statewide association of technology oriented companies and institutions, providing leadership in areas of policy advocacy, community building and assistance for growing companies. Speaking for over 2,000 companies that employ some 200,000 residents, the Connecticut Technology Council seeks to provide a strong and urgent voice in support of the creation of a culture of innovation. This includes working to position Connecticut as a leader in idea creation, workforce preparation, entrepreneurial aptitude, early stage risk capital availability and providing on-going support and mentoring to high potential firms.
About Cervalis
Cervalis is a premier provider of IT infrastructure solutions including enterprise cloud computing, business continuity/disaster recovery, managed hosting, and colocation. The company's skilled professionals, world-class facilities and outstanding customer support provide our clients with a secure IT environment that ensures business resilience. Cervalis' state-of-the-art, fault-tolerant, operations and recovery centers total more than 500,000 square feet of space. Cervalis offers world-class customer support with technology needed to scale complex environments reliably and cost effectively. Cervalis has earned SSAE 16 and PCI compliance as well as Cybertrust certification. To learn more about the Cervalis advantage and their data centers, please visit http://www.cervalis.com or call toll-free 1-866-602-2020.
For more information please contact:
Michelle Ziperstein
Marketing Communications Specialist
Cervalis, LLC
(203)-602-2041
mziperstein(at)cervalis(dot)com