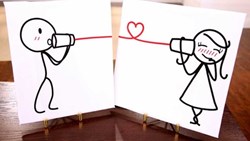 New York, NY (PRWEB) September 30, 2013
Long distance relationships can be tough and not for the faint of heart. The first stages of love always feel hopeful and positive but there comes a time where fears and doubt take over. Is this relationship worth it? Can this really work out? Do we have what it takes to make this relationship work?
Take a break from those negative feelings for a moment and consider this: Even in traditional relationships feelings of self-doubt and fear can exist. It's natural to want to be reassured that feelings of love and admiration are shared and reciprocated. So what can be done? How can one cope with a long-distance relationship?
The strength of a long-distance relationship depends on the quality of the communication, and not necessarily the quantity. Maintaining an emotional connection is important, and while there are exponential amounts of ways to stay connected in this world, they each have benefits and pitfalls.
Let us count the ways.
Without a doubt the simplest and most beloved way to stay in contact is by phone. Hearing a human voice and all its little nuances makes all the differences in a conversation. A five minute conversation can be extremely satisfying for both parties involved, however long-distance rates can vary wildly and talk time can get expensive. Long-Distance Mobile solutions such as Pure Minutes give up to $3 in bonuses just for signing up (Click Here to Find Out How!) and offer affordable international calling without the calling cards. These pinless calling cards are a great and convenient way to save money and keep in touch with loved ones.
Skype video-calls are a close second, because absolutely nothing can replace being able to chat to each other face-to-face. However a quality internet connection might not always be available to both parties. The system is also generally limited to home connections, making scheduling conflicts a real possibility. Video calls are a great way to show off recent projects and make sure to set aside time to watch some shows together or do some cooking.
E-mail communication is effective, especially with intermittent or underdetermined schedules, however may come off cold and impersonal. Make sure the e-mails are substantive and detailed, the time and effort will always pour through. Share triumphs, tragedies, photos or links to articles to make opening the e-mails a rewarding and interactive experience.
The last major way to stay in touch is the highly traditional, but timeless, hand-written letters and care packages. The importance of the letter has depreciated since the advent of the internet, however it is important to remember there is a high level of sentimentality through the physical post. When the recipient is reading a hand-written letter, while presumably snacking on some homemade cookies, it's a far greater experience than reading typed word on screen. Receiving a gift in the mail is an exhilarating feeling, and as long as the gift is thoughtful it doesn't even have to be expensive.
These simple tips can help maintain or even strengthen long-distance relationships and make it a little more bearable. The topic of discussion will vary from couple to couple, but however you plan to stay in touch will be all yours.
To learn more about Pure Minutes and our amazing low rates visit the website at (http://www.PureMinutes.com.) Pure Minutes provides a low-cost international calling solution that works with any phone number, regardless of the current provider. This means that a user can enjoy the benefits of low international rates without needing to change their current landline or mobile cell phone service provider. Subscribed callers simply dial a local access number and through modern "Automatic Caller Identification" software we can recognize a subscribed caller making the need for complicated PIN codes a thing of the past.
The PURE Minutes difference

No Hidden Fees
No Connection Fees
No Maintenance Fees
Real Minute Rounding
No Contract Required
Minutes Never Expire
Low International Rates
Reliable, Clear Quality
About PureMinutes
PURE Minutes is a leading provider of prepaid international long-distance calling solutions. We provide an affordable communication solution that offers flexibility, portability and ease-of-use for both landline and mobile users. PURE Minutes offers competitive international calling worldwide with no hidden fees, no maintenance fees, no contract required, and minutes that never expire. PURE Minutes service is sold on the web and through regional and national retailers including MoneyGram, La Nacional and payXchange and is available to customers worldwide in English and in Spanish and accepts payments through all major credit cards and Paypal.
Follow us on Twitter (@PUREMinutes), Facebook (facebook.com/PUREMinutes), and LinkedIn (PUREMinutes, LLC) for up to the minute updates.
###