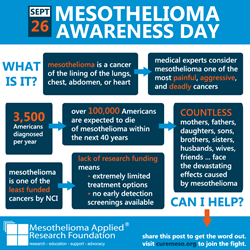 Mesothelioma patients and families don't have the luxury of time.
Washington, DC (PRWEB) September 30, 2013
On September 26th, Mesothelioma Awareness Day, the Mesothelioma Applied Research Foundation (Meso Foundation) held a Congressional Briefing on Capitol Hill in Washington, DC, to educate members of Congress and their staffers about mesothelioma and its tragic consequences. Presenters at the briefing included Dr. Richard Alexander, Professor and Associate Chair at the University of Maryland School of Medicine, and Lisa Gonneville, a mesothelioma patient.
The purpose of the briefing was to shed light on mesothelioma, a cancer that many people may have heard of, but few know much about.
"Educating Congressional members and staffers is a first step in achieving government involvement in solving the mesothelioma crisis," said Jessica Barker, Meso Foundation's director of government affairs.
Ms. Barker said that the Meso Foundation has been working to eradicate this cancer for the last 14 years, and although many advancements have been made as a result of the organization's work, mesothelioma research requires meaningful federal funding in order to speed up progress.
"Mesothelioma patients and families don't have the luxury of time," she added.
Mesothelioma is a malignant tumor of the lining surrounding the lung, abdomen, or heart, and is known to be caused by exposure to asbestos. With a life expectancy of six months to one year following diagnosis, medical experts consider it one of the most aggressive and deadly of all cancers. Between 3,000 and 3,500 Americans are diagnosed with mesothelioma every year.
Lisa Gonneville is one of them. Ms. Gonneville is from Dayton, Maine, where she lives with her husband and three of her four children, the youngest of whom is only eight years old. Her eldest son is currently serving in Afghanistan. Before her diagnosis, Ms. Gonneville was the owner and operator of a daycare center in her hometown. In 2009, when she was diagnosed at the age of 38, Ms. Gonneville was forced to stop working in order to make time for a string of treatments, some as debilitating as the disease itself.
Since then, she has had ten surgeries and 40 rounds of chemotherapy. Ms. Gonneville is currently enrolled in a clinical trial at the National Cancer Institute in Maryland, following a recent recurrence.
Dr. Alexander, who preceded Ms. Gonneville's heartfelt presentation, argued that funding for mesothelioma research is not only important because advancements in the field would help mesothelioma patients live longer and survive, but because the knowledge gained would also help cancer patients in general. Given the dire statistics that 1 in 2 males, and 1 in 3 females will develop cancer in their lifetime, he concluded that this is a compelling proposition in the best interest of public health.
Congresswoman Betty McCollum sponsored the briefing. Her predecessor, Rep. Bruce Vento, succumbed to mesothelioma in 2000.
About the Mesothelioma Applied Research Foundation
The Meso Foundation is the only 501(c)3 non-profit organization dedicated to eradicating mesothelioma and easing the suffering caused by it. The Meso Foundation actively seeks philanthropic support to fund peer-reviewed mesothelioma research; provide patient support services and education; and advocate Congress for increased federal funding for mesothelioma research. The Meso Foundation is the only non-government funder of peer reviewed scientific research to establish more effective treatments for mesothelioma and, ultimately, a cure for this rare, but extremely aggressive, cancer. To date, the Foundation has awarded over $8.2 million to research.
More information is available at http://www.curemeso.org.