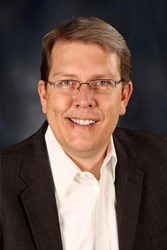 Randal has demonstrated a track record over the past 15 years that is impressive." Charles Herrick, Principal
Seattle, WA (PRWEB) September 30, 2013
There is buzz around Puget Sound about a new business growth team coming together in Seattle with a focus that does not include being really big. Their goal is simply to be really good. Twentyfive, a company that is organized around twenty sustainable business growth strategies in five disciplines will announce this week that they've found the person to coral their diverse group of principals and concepts and lead them to market over the next two quarters.
Well known in Microsoft circles for being a pioneer in the cloud services space, Randal Southam has entered an agreement with shareholders and the board to become Chairman and Chief Executive Officer at Twentyfive effective November first. He will formally complete his earn out period related to the sale of his business, FifthCloud, by the end of the year. "Randal has demonstrated a track record of success over the past fifteen years that is impressive" said Charles Herrick, one of the founding principals of Twentyfive. "Our objective in recruiting him was not just what he brings to our team in this phase of development, it's the value he represents to our client base that is the real driving force behind this choice."
"One of my highest priorities heading into 2014 will be to replace myself as the CEO" said Southam as he met with his new team on Friday. "We are not here to focus on ourselves and I don't want to run this business; we have customers already relying on our team today and our focus has to remain on them. I want to focus on them and I know you do, too. I am so enthusiastic about this opportunity because I believe that everyone on our team has that same vision and shares those same core values – our success can only be measured by the success of our customer."
Members of the company's board commented that they had been in conversations with Southam for quite some time. Herrick went on to say that "Randal was a driving force in helping us form the vision of how our team could organize, how we could communicate our value proposition, and tangible steps we could take to make it happen. He helped us land our first customers. There really was no other choice; we believe in his message, his integrity, and we are very excited he has accepted our offer."
Southam, who started his career in sales with Xerox in the '80s, went on to become a Director for Kanbay's west coast expansion in the mid '90s and the Director of Enterprise Consulting at BEST Consulting in the late '90s. In 2003, Southam formed TriVenture which became a Microsoft Gold Certified Partner specializing in Microsoft Dynamics CRM. In 2004, TriVenture launched CRM OnTarget, the first brand to offer Dynamics CRM in a hosted, cloud-based offering worldwide. In 2007 TriVenture was acquired by FifthCloud where Southam eventually moved into the CEO role and negotiated the sale of the business to Fine Solutions of Seattle in 2011.
"The ownership and principals have given me the latitude I need to bring this vision to life," said Southam. "Our goal and the reason we exist is to do everything within our power to help our friends succeed. You heard me right, our friends. These are not our clients, they are our friends. We work alongside them, we know their families, we laugh with them, get mad with them, and celebrate with them. It means they are people we are genuine with and we care about. If a client does not share those values, or if they are not excited that they get to work with the team at Twentyfive, then we are not a match."
Twentyfive provides services and consultation in disciplines which include business development, communications, growth-focused technologies, sales, and leadership. The company is comprised of principals who represent diverse business backgrounds and have successful track records. Talent runs deep on the team in strategic thinking and execution with designers, writers, producers, online and software engineers, graphics professionals, video production teams, and business leaders. Twentyfive has a team focused on non-profits as well as distressed situations including the need for temporary leadership and sales executive management.
Based in Seattle, Twentyfive will remain in the low-key development phase through the first quarter of 2014 as start-up and execution of current projects continue in a concurrent fashion. The company has leased office space on Lake Union in Seattle and plans on having a presence in multiple locations throughout the Western US by the end of 2015.