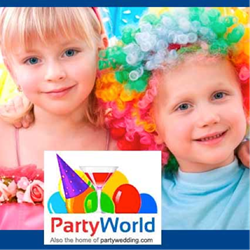 Tacoma, WA (PRWEB) September 30, 2013
Party World is pleased to announce the launch of their new website. Now customers can easily shop on their mobile devices, including smart phones and iPads, as well as their desktop. Search and navigation abilities are greatly improved. Plus there is the new option to set up individual accounts, as well as use account information from Amazon for convenient shopping and payment. These remarkable upgrades are just in time for the holiday party season and make ordering party decorations, invitations, and other party supplies easy and fast.
For over fourteen years, Partywedding.com has provided their on-line customers with the popular theme and holiday party supplies including the unique and creative. For the seasonal touch, fall decorations will complement your Thanksgiving décor and are also perfect for decorating classrooms. Cutouts and scene setters for wall coverings feature colorful trees in classic fall shades for beautiful ways to transform party spaces. Lovely Thanksgiving decorations are available featuring autumn hues and harvest themes – see cornucopias, pumpkins, fall leaves and turkeys, as well as pilgrims in table ware, centerpieces, and serving trays.
Of course, colder weather is fast approaching. Get a head start and order snowflake decorations in a huge variety of cutouts, hanging and ceiling decorations, table décor, scene setters and much more – instant winter decorations. These fit beautifully with Christmas decorations and party supplies, with table décor, centerpieces, plates and napkins. Wall decorations with snowmen, scenic landscapes and snowflakes make classic room settings.
In the meantime, October has lots to celebrate. Find fun Oktoberfest supplies including those in classic German designs for a nice touch with white and blue diamonds, gentlemen in lederhosen and women in dirndls bringing images of Munich to mind. Banners, cutouts, string décor and pennants add to the festive air. Plus, find fun beer party supplies from steins to balloons, favors to beer pong supplies for a rousing celebration. And for Halloween party supplies, Halloween wall decorations add an instant atmosphere and easy to add to other Halloween decorations.
Carole Rockne, Party World's Partywedding.com owner states, "We are very excited about our new website – a great improvement for our customers! This will make it much easier for everyone to find what they need – anywhere. And we are able to supply our customers with all they need for their party supplies. Customer service is always our priority and we will do whatever we can to help". Call for assistance with ordering and for party ideas at 1-800-933-3948.