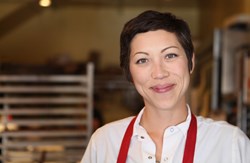 Renaissance's 29th Anniversary raises key funds to provide low-income women and men with access to small business training and resources at low- or no-cost.
San Francisco, CA (PRWEB) September 30, 2013
For 29 years, Renaissance has provided crucial access and training to aspiring and established entrepreneurs who have started and grown thousands of local restaurants, retail stores and service businesses. A truly small business celebration, the event features a marketplace of unique gifts and products by Renaissance businesses and guests will enjoy delicious hors d'oeuvres and desserts catered by Renaissance businesses.
"small business BIG IMPACT" celebrates Renaissance's 29th anniversary and raises key funds to provide low-income women and men with access to small business training and resources at low- or no-cost. More than 300 business, civic, corporate and community leaders and friends will join Renaissance for this event on Tuesday, October 8th 5:30pm – 8:30pm at the Bently Reserve, 301 Battery Street in San Francisco.
For more information, including sponsorship levels and marketing opportunities, please visit our website or call Alice Gleason at (415) 348-6209 or agleason(at)rencenter(dot)org. For media questions and interviews, please contact Maria Kelly at (415) 348-6223 or mkelly (a) rencenter (dot) org.
###
About Renaissance
Renaissance brings the power of entrepreneurship to under-served communities through award-winning entrepreneurial training and support services to help motivated women and men launch and grow their own businesses, achieve economic self-sufficiency, and create jobs for themselves and others.
This year, Renaissance clients will start and grow over 500 businesses, and with 40% of these new enterprises employing two or more people plus the business owner, more than 1,000 new jobs will be created. Renaissance serves diverse clients who will help change America's economy – 89% are very low- to moderate-income, 70% are women and 65% are people of color.
RENAISSANCE 2013 AWARD WINNERS
Cheryl Burr, Pinkie's Bakery – Established Entrepreneur of the Year Award
After more than a decade of working as a pastry chef at famed San Francisco eateries, Cheryl Burr decided to become her own boss. Knowing that she needed comprehensive business training to complement with her baking skills, Cheryl enrolled in Renaissance's Business Planning Class in the winter of 2008. Soon after completing the course, Cheryl opened Pinkie's Bakery. Her industry connections and reputation for quality led to a steady growth in both wholesale accounts and at the bakery location. In 2010 Cheryl and a business partner opened Citizen's Band, a restaurant serving fun and delicious diner-style food next door to Pinkie's Bakery in SoMa. Now a savvy entrepreneur, Cheryl employs 23 staff and continues to seek assistance from Renaissance throughout her business expansion process.
Deundra and James Hundon, Universal Martial Arts Academy -- Angela Cain Memorial Award
After years of working in education, James and Deundra Hundon decided to start their own business. With more than 45 years of experience in martial arts, James was eager to focus on his passion full-time, and together, James and Deundra opened Universal Martial Arts Academy in the Bayview District of San Francisco. Deundra was excited to move training equipment out of their living room, but, more importantly, both she and James believe in the ability to change lives and make positive impact in their community through martial arts training. Looking for ways to organize and grow their business, Deundra enrolled in Renaissance's Business Planning Class. Since then, the Hundons have hired two instructors, upgraded the school's façade through the Wells Fargo Small Business Neighborhood Renovation program, and are expanding their services by adding youth-focused program and offering training in the East Bay.
The Angela Cain Memorial Award honors Angela Cain, a beloved Renaissance staff member who passed in 2004. The award is given to a business owner who embodies both significant entrepreneurial achievement and dedication to one's community.
Jorge & Oscar Flores, Don Polvoron Bakery – Established Entrepreneur of the Year
Jorge Flores was working as a phone distributor when his brother Oscar proposed the idea of starting a family business. In 2006 the brothers opened Don Polvoron Bakery, offering traditional Latin American dishes, customized specialty cakes and delicious baked goods. With his clientele expanding and orders pouring in, Jorge realized he needed guidance and expertise to embrace the growth and ensure business success. He took Renaissance's Business Planning Class and worked with the organization's long-time business consultant to organize his business and develop growth strategies. As a result, the Flores brothers are running a thriving bakery business that employs seven staff and has become a staple of their community in Hayward. Jorge's business success and community involvement earned him the Face of Entrepreneurship Award from the California Association of Micro Enterprise Opportunity (CAMEO) earlier in 2013.
Kasey Arnold, KCAI Communications -- Emerging Entrepreneur of the Year
Kasey Arnold is a talented writer and an accomplished corporate marketer who helps clients —ranging from small start-ups to large corporations—shape and tell their brand story. Before launching KCAI Communications, she was Communications Director for the PAX companies, where she managed high-profile engagements with NY Times, LA Times, Fast Company, and Fortune, among others. The economic crisis gave Kasey an opportunity to return to independent consulting and, this time around, run it as a sustainable business. While looking for ways to build her own business, Kasey learned about Renaissance's newly-opened small business development center in Marin. After taking Urban Fire I & II classes at Renaissance, Kasey feels confident and set up for business success. She is currently working with Q2E, a start-up client that is employing game mechanics to transform the workplace, and teaches Urban Fire I for women entrepreneurs at Renaissance Center in Marin.