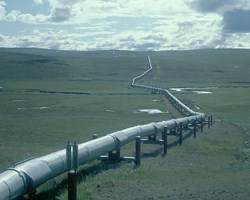 This app has the potential to greatly increase the potency of oilfield inspections for local and international oil and gas companies.
Calgary, AB (PRWEB) September 30, 2013
Transcanada's Keystone XI Pipeline is generating a lot of headlines recently, as it seeks the release of the U.S. Department of State's Supplemental Environmental Impact Statement to begin construction. The project, which was originally proposed in 2008, has been the centre of controversy on both sides of the border as government regulatory bodies and private citizens are skeptical about the structural efficacy of a pipeline this size.
Because no money is made on a pipeline until it's in operation, many from within and without the TransCanada organization are concerned the company will try to expedite the construction process, cutting corners to streamline building, as a way of achieving profits as soon as possible. Whether or not there is any validity to these claims, the pipeline, in limbo for five years now, has met with a great deal of political controversy every step of the way. While some protesters are more informed than others, this culture of distrust surrounding major oil and gas operations is not totally unfounded. Public safety is always an issue when it comes to large pipelines, and there have been significant leaks throughout Western Canada in the past.
The upper management at Transcanada regrets these delays to the Keystone XI Pipeline's construction, as they also delay the significant benefits such a pipeline would bring. These benefits include thousands of jobs for workers across North America, increased energy security for both the US and Canada, and increased trade across the border. Most of the political debate surrounding the pipeline is attributed by these executives to misinformation and misunderstandings. And yet, an atmosphere of skepticism strongly exists when it comes to large pipelines, and incidents, both minor and major, have been occurring with relative frequency over the past few years, including the Rainbow pipeline spill in May 2011 and many others.
Perhaps some of these spills, and the apprehension they cause, can be attributed to safety inspection protocols which are outdated and do not adequately serve the oil and gas industry any longer. In today's world, where technology has transformed nearly every major industry, safety inspections in the oilfield are still carried out in large part using paper and pencil, and archaic filing systems make it difficult for administrative personnel to quickly locate and address a safety issue.
It was in response to this state of affairs that the Oilfield Inspection App was developed. This app, designed by a team deeply invested in the oil and gas industry, is meant to address some of the inefficiencies of the current system when it comes to oilfield inspection. The app allows safety inspectors to upload notes from the field, including images and audio, to a central admin panel available from any web browser. The robust, secure interface allows specific issues to be prioritized in real time, and pertinent data acquired in areas without Internet can be easily synced whenever Internet access is regained.
This oilfield inspection software has the potential to greatly increase the potency of oilfield inspections for local and international oil and gas companies. Issues which may have slipped through the cracks of the previous system can be effortlessly tracked using this app, and the substantial revenue loss coming from gas leaks and oil spills can be effectively reduced. Although this app is intended to help individual companies, it may have a positive impact on the oil and gas industry at large, reducing the number of and potential for unwanted incidents in the field, and restoring faith in the sustainability of oil and gas projects throughout North America.
For those safety inspection companies looking to add value to the clients they work for, there is an oilfield inspection app reseller program.