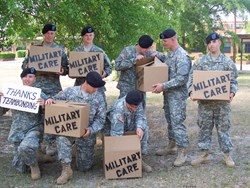 Boston, MA (PRWEB) September 30, 2013
Two of TeamBonding's most popular team building events include Operation Military Care and The Charity Bike Build. Teams are sure to find the one that speaks to them and tugs at those heart strings. Each program is truly touching in its own way, and these are just two of nearly twenty to choose from.
Operation Military Care focuses on assembling care packages for US soldiers overseas. The teams must work together in order to "purchase" the items to piece together the packages. Since January we have seen 1,215 care packages assembled with love and gratitude for these brave men and women.
The Charity Bike Build has teams racing to the finish to build kid approved, super cool bikes. Together with their clients TeamBonding has assembled and donated 1,639 bikes and new helmets this year alone. That's a lot of happy smiling faces.
With a variety of events to boost corporate citizenship, TeamBonding makes it easy to find just what a team is looking for. Doing good by doing for others just got easier. TeamBonding is proud to say that they have over 20 years of experience in bringing joy to the hearts of team members and recipients alike. Teams will bond like never before, guaranteed.
About Teambonding
TeamBonding.com is a unique corporate event planning company. With over twenty years of experience we have dedicated our mission to forging authentic bonds between members of corporate teams. Through the "power of play" we set ourselves apart. With cues taken directly from our own children we see how the simple act of playing helps them grow and form lasting, authentic friendships. Headquartered in Stoughton, MA, TeamBonding has facilitators in nearly every major city of the U.S. For more information, please visit teambonding.com.