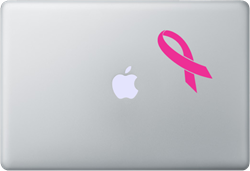 Fort Lauderdale, FL (PRWEB) September 30, 2013
October is upon us, and that means Breast Cancer Awareness Month (BCAM) is here. Every October, men and women from across the nation join together in the hopes of promoting breast cancer awareness. Not just individuals— entire companies, associations, and organizations become part of the commitment too.
Renowned organizations such as the American Cancer Society, Susan G. Komen Foundation, and Men Against Breast Cancer have joined the cause.
They come together to increase diagnosis and prevention for cancer, while collecting donations to be distributed towards the advancement of cure research. They do this so no more mothers, wives, or daughters will be lost to breast cancer. Making sure no one will ever again have to suffer through the pain of that loss.
In support of this vital undertaking, for the entire month of October, MacDecals.com will be giving away pink ribbon decals in support of breast cancer awareness. Every order made at http://www.macdecals.com between October 1st and October 31st will come complete with the famous "pink ribbon" –a high-quality vinyl sticker–perfect for use on laptops, car windows, and other smooth, dry surfaces.
Order now, and proudly display your ribbon; your support for the month of October will be important to the entire world to continue the global effort to stamp out breast cancer!
About the company
Founded in 2011, MacDecals.com is the online store for custom decals, stickers and skins. MacDecals.com specializes in designing and printing the highest quality vinyl decals and sticker graphics for electronic devices: Macbook, iPhone, iMac, iPad, PC laptops, car windows, and more.
A proud, Made in the USA Business, Macdecals.com products are shipped nationally and extend across the globe. In addition to their constant growing selection of decal designs, stickers and skins, they have a team standing by to make custom designs requested by customers.