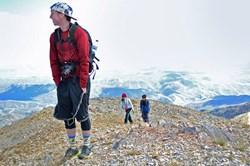 The trail is nearly as long and as arduous as the Mt. Nebo hike, but the trail is better established and can handle the impact." -- David Heldreth, Director of Experiential Learning
(PRWEB) September 28, 2013
For the past 75 years Wasatch Academy has kicked off our year with the traditional hike up the imposing slopes of Mt. Nebo. However, the school has grown to a point where the tradition must be adapted to accommodate the 300-plus students and reduce the impact on the habitat and environment.
So, this year, school officials decided in conjunction with the U.S. Forest Service to shift the all-school hike to Horseshoe Mountain.
"The trail is nearly as long and as arduous as the Mt. Nebo hike, but the trail is better established and can handle the impact," said David Heldreth, Director of Experiential Learning for Wasatch Academy. "Additionally, students helped to clean-up the trail while hiking, and we planned to leave it in better shape than when we started."
The tradition of Wasatch Academy students reaching the summit of Mt. Nebo — an 8-mile roundtrip hike that challenges body and mind — will continue, although it will be done in small groups, with seniors being given preference. Already this year, 12 Wasatch Academy students have reached the Mt. Nebo peak.
This year, on Sept. 24, the entire student body tackled the physical and metaphoric challenge of climbing a mountain — Horseshoe Mountain. For some students, the goal is to be the first to the top, while for others (especially those coming from sea level) simply hiking for a couple of hours at 6,000 feet and higher is an accomplishment. After the completion of the hike, it was apparent that the original goals of the Mt. Nebo hike, including community building, were not lost with the climbing of Horseshoe Mountain.
As in many other years, reaching to top of the mountain was accomplished by many students during the all-school hike. This year, 143 Wasatch Academy students reached the Horseshoe Mountain summit.
The adapted tradition reflects a commitment by Wasatch Academy to sustainability. The school utilizes Utah's unparalleled outdoor recreation in a wide variety of ways, and actively seek to preserve those resources for future generations.