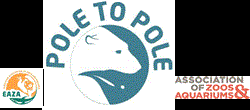 Amsterdam (PRWEB) September 29, 2013
The European Association of Zoos and Aquaria (EAZA) and the Association of Zoos and Aquariums (AZA), based in the United States, are working together to highlight the conservation of polar species and sustainable behavior via their new Pole to Pole campaign which will reach more than a quarter of a billion visitors each year.
The Pole to Pole campaign launches today in Edinburgh at the EAZA annual conference, highlighting the amazing nature of the Arctic and Antarctic. Zoos and aquariums across both continents will work with conservation organizations including Arctic Action Teams to promote more sustainable living to their visitors. EAZA will promote a 'Pull the Plug' scheme, asking visitors to ensure that they don't over-charge mobile phones – an individually small action but a massive collective saving of energy that could power a small town! AZA will promote the ways in which zoos & aquariums model sustainable business operation practices, communicate about climate change impacts on wildlife, and inspire their visitors to take personal and civic action to reduce these impacts each year.
Jose Kok, Chair of the Pole to Pole campaign commented, 'We are very excited about the opportunities we have with this campaign to talk about animals such as polar bears, penguins and walrus and to work together with our more than 140 million visitors to reduce energy use through simple actions. If we all work together we can help protect these wonderful animals.'
Dr. Debborah Luke, Vice President of Conservation and Science for AZA, commented, 'AZA-accredited zoos and aquariums are trusted institutions through which more than 180 million visitors learn about wildlife and nature each year. By partnering together with EAZA to reach our combined audiences, we have an unparalleled opportunity to inspire people to protect humankind's wildlife heritage'.
Dr. Ian Stirling, a renowned polar bear expert with Arctic Action Teams who is also the keynote speaker at the EAZA Annual Conference and will help launch Pole to Pole said, ''The resources of the planet are finite. The more humans encroach on the resources and ecosystems that wild animals depend on, the fewer wild animals there will be, both numerically and in terms of species diversity. Only by learning to sustain ourselves with what we already have can be reduce our negative impacts on naturally occurring species and their wilderness habitats.''
(End.)
About EAZA:

The European Association of Zoos and Aquaria (EAZA) represents 345 members from 40 countries, EAZA zoos and aquariums contribute more than €100 million a year to wildlife conservation and formally teach more than 5 million children a year;
More than 730 delegates will meet in September in Edinburgh for the 2013 annual conference;
EAZA has a significant social role in educating European citizens about animals, their conservation, and overarching threat processes such as climate change, habitat loss and how consumer behavior interacts with these global challenges. Zoos and aquariums have been demonstrated to host a far more representative and inclusive visitor social spectrum than either museums or science centers;
For more information about EAZA, please visit: http://www.eaza.net. More information about the association's work on the Polar Regions, as well as the threats currently faced can be found on the Pole to Pole Campaign website: http://www.poletopolecampaign.org. The campaign runs until 30 September 2015.
About AZA:
Founded in 1924, the Association of Zoos and Aquariums (AZA) is a non-profit organization dedicated to the advancement of zoos and aquariums in the areas of conservation, education, science, and recreation. Look for the AZA logo whenever you visit a zoo or aquarium in the United States as your assurance that you are supporting an institution dedicated to providing excellent care for animals, a great experience for you, and a better future for all living things. AZA is a leader in global wildlife conservation, and your link to helping animals in their native habitats. For more information, please visit http://www.aza.org.
About Arctic Action Teams:
The Arctic Action Teams are a movement that makes infrastructure and funding available for sustainable actions. The focus is on targeting communities to create green beacons so as to show to the world that change is happening
AZA Contact: Jennifer Fields, (301) 244-3336, jfields(at)aza(dot)org
EAZA Contact: Rachel Goddard rgoddard(at)rzss(dot)org(dot)uk
Arctic Action Team Contact: Robert Buchanan, AATeams(at)icloud(dot)com,1 813 335 3585
B-Roll:
FTP IP Address: 69.144.240.4
Username: brollwm
Password: bearbroll9