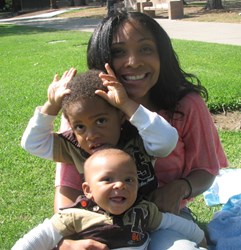 "Especially valuable for first-time mothers, even readers who aren't parents will be inspired by the honesty of this life-affirming, real-world book." — Anna Jedrziewski, Retailing Insight
(PRWEB) September 30, 2013
Kuwana Haulsey was recently featured on Shelf Awareness as the "Book Brahmin." She answered questions about her favorite authors and her inspirations. In response to which book she is an evangelist for, Kuwana responded, "The Woman Warrior by Maxine Hong Kingston is such a phenomenal book. Again, I am a total sucker for language and Kingston's language is awe-inspiring. Her characters resonate in a spiritual way for me. It's like being in church. I teach this book in classes and pick it up to read randomly when I'm bored. I wish it was required reading for everyone, especially those who fancy themselves to be writers."
The inspiration for her newly released book Everything I Needed to Know I Learned From My Six-Month-Old came from a change in how she views relationships. "I began writing about my relationship with my son (my first foray into full-length nonfiction) because of the insights that continued to occur to me when I realized that we had chosen each other. It's the exact opposite of when people say, "Babies don't choose to come here." I began to entertain the idea that we do, in fact, choose to come here for very specific reasons and with some very important lessons to teach."
Kuwana Haulsey is the author of two novels, The Red Moon and Angel of Harlem. In 2007, the PEN/Faulkner Foundation named Haulsey one of three New Voices in American Literature. That year, Angel of Harlem was chosen as one of the New York Public Library's Books for the Teen Age. The Blackboard Bestsellers organization awarded Angel of Harlem the Medal of Courage, a prize created specifically to honor the book. The Red Moon was chosen as a Washington Post Notable Book of the Year and was a finalist for a Hurston-Wright Legacy Award. Haulsey is an editor and freelance journalist. Her latest book is Everything I Needed to Know, I Learned from My Six Month Old (Viva Editions/Cleis Press, October 15, 2013). Haulsey lives in Los Angeles with her husband and two sons.
Join Kuwana for her book launch at the Agape Quiet Mind Bookstore in Culver City, CA on October 19th and 20th.
Everything I Needed to Know I Learned from My Six-Month-Old
Awakening to Unconditional Self-Love in Motherhood
By Kuwana Haulsey
Foreword by Michael Bernard Beckwith
Everything I Needed to Know I Learned from My Six-Month-Old fuses memoir, spirituality and self-development in a moving tribute to the lessons Kuwana's infant son taught her. Kuwana Haulsey movingly explores motherhood as a means of waking up her own—and her reader's—innate potential for personal transformation.