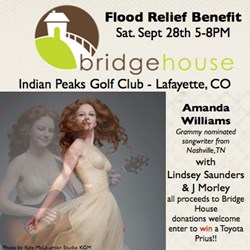 Lafayette, CO (PRWEB) September 27, 2013
Bridge House, an organization providing assistance to homeless and unemployed residents in Boulder County, Colorado has turned its efforts to flood relief. Lafayette resident, J Morley has organized a benefit concert from 5-8PM on September 28th at Indian Peak Golf Club featuring Grammy nominated songwriter, Amanda Williams and local favorite Lindsey Saunders with all proceeds going to Bridge House.
Bridge House is also gearing up for its 7th Annual "A Roaring 20's Gala" on October 18, 2013 at Rembrandt Yard featuring great food provided by Savory Cuisine, live music, dancing, a high end raffle and silent auction, and VIP speakeasy. All proceeds will benefit Bridge House's innovative solutions to end homelessness.
Representatives from Bridge House will also be on hand at the Durango Songwriters Expo coming up October 3-5th in Broomfield, Colorado selling raffle tickets for a 2013 Toyota Prius. The winner of the Prius will be announced at the Roaring 20s event on October 18th.
To learn more about flood relief and the work of Bridge House, please visit http://boulderbridgehouse.org/contact-us/ and fill out the contact request form.