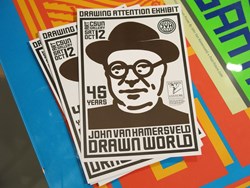 I see Hamersveld as an extremely influential visual artist. There's a timeless quality to his creations; his work captures the true essence of California.- Katherine Tattersfield, PrintFirm Online Marketing Director
Los Angeles, CA (PRWEB) September 30, 2013
Print art legend John Van Hamersveld will appear in person for a lecture and book signing at Cal State Northridge Art Galleries on Oct. 12th, 2013 from 1pm to 4pm. The exhibition of his selected works entitled "Drawing Attention" features many of his most popular pieces along with previously unreleased hand drawings. The artist's appearance marks the end of the limited showing; local visitors are welcome to attend a viewing beforehand during regular gallery hours. This collection spans 45 years of Hamersveld's distinguished career as the quintessential graphic artist of the 60s surf scene and 70s psychedelic counterculture. Guests will be able to take home a full color companion booklet co-published by Hamersveld and the University Press for $30 as well as hard copies of his legacy book, "John Hamersveld: Fifty Years of Graphic Design" for $55. The Drawing Attention book displays associated works from the exhibition and offers fascinating insights into Hamersveld's unique creative process. The artist will be available to sign books and posters purchased on site.
Printfirm online marketing director and CSUN alumni Katherine Tattersfield believes Hamersveld to be the most important graphic designer of the 20th century. "Maybe I'm biased because I'm a Los Angeles native and a skater, but I see Hamersveld as an extremely influential visual artist. There's a timeless quality to his creations; his work captures the true essence of California."
A California transplant with Baltimore roots, Hamersveld achieved early fame when he designed the iconic Endless Summer movie poster at age 22 as an art school student. His technique of transforming real life images from original photography into colorful pop art set the stage for the coming Cultural Revolution. A graduate of the Art Center College of Design in Pasadena, Hamersveld served as art director for Surfer Magazine before moving on to the music industry through Capitol Records. In his 10 years at Capitol, Hamersvled designed numerous covers for classic rock albums by the Rolling Stones, the Beatles, the Jefferson Airplane, Jimi Hendrix, and the Grateful Dead. Dubbed the official artist of the Summer of '69, Hamersveld was a prominent fixture during the hippie era.
Although he's best known for his musical projects, Hamersveld also contributed his talents to the 1984 Summer Olympics in LA; he created the promotional poster for the event. In the '90s he dabbled into more traditional advertising, such as the logo for the Fat Burger brand. He currently operates out of the CoolHous Studio in Santa Monica and sells high quality prints of earlier pieces along with his drawings and photos through the Post-Future Art Company.
The closing ceremony on Oct 12th marks Hamersveld's 2nd visit to the CSUN campus. The initial artists' reception took place on September 7th where an enthusiastic crowd filled the 3,000 square ft. facility. Back by popular demand, the University anticipates another successful collaboration for students and art lovers to enjoy. PrintFirm CEO Nick Artounian feels the event holds special significance for the print design community: "I want people to appreciate this great talent, who chooses to express his creativity in print. Ink and paper are powerful tools that transcend generations." PrintFirm will be represented at the lecture by Tattersfield, who plans to share photos of the event on the printing company blog.
About CSUN Art Galleries
Gallery hours are Monday through Saturday, from noon to 4 p.m., and on Thursday, from noon to 8 p.m. For more information, call CSUN's Art Galleries at (818) 677-2156.
About PrintFirm
Printfirm, Inc., trusted leaders in online printing, mailing, and design since 1996.