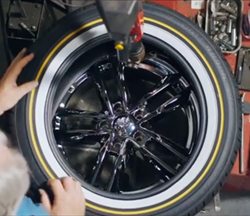 "We saw an immediate spike in web traffic..."
Mount Prospect, IL (PRWEB) September 29, 2013
Vogue Tyre is benefiting from the latest music release, "White Walls" from international hip-hop group Macklemore and Ryan Lewis. Vogue Tyre's website traffic has increased five percent since the release of the "White Walls" song on YouTube. "We saw an immediate spike in web traffic the day the video was released on YouTube on September 10th. We have also seen additional Facebook likes and visits throughout the month. This has been great at generating buzz about our brand, and is perfect timing to leverage our upcoming fourth quarter Signature Sales Event," said Brian Fjeldsted, Vice President of Marketing for Vogue Tyre and Rubber.
Vogue Tyre is specifically mentioned by Macklemore and Ryan Lewis in the song. The artists reached out to Vogue to see if there was a way they could leverage Vogue Tyres in the video. "This was a great opportunity to contribute our support to their music and creative vision by offering the use of our Los Angeles warehouse for filming," said Greg Hathcock, President of Vogue Tyre and Rubber.
The YouTube video of "White Walls" has already received over 3.7 Million views and growing daily.
Vogue Tyre invented the original white wall in 1914 and has been providing custom built tyres to the most discerning customers for 99 years.
About Vogue Tyre:
The Vogue Tyre and Rubber Company's tradition for providing custom luxury tyres for the most discerning customers has been alive for over 99 years. Vogue Tyre has been at the cutting-edge of performance design and technology and continues to provide customers with a distinctive tyre with outstanding performance. Vogue Tyres has set industry standards and continues to raise the bar in this competitive industry. Known for inventing the whitewall tyre with a patented gold stripe design back in the early 1900s, Vogue has become the tyre of choice for high-end vehicles and the discriminating motorists including celebrities and professional athletes. Today, Vogue Tyres has remained a leader in vehicle customization by providing custom tyres, wheels, and accessories through new car dealerships, select tire dealers, and company-operated custom centers. Being at the forefront of new trends and design, Vogue Tyres was the first to introduce a 18" and 20" whitewall and gold stripe tire for use on passenger cars. The tyre of choice for Cadillac owners, Vogue has branched out to include a wide range of applications for today's market, such as Lexus, Infiniti and Mercedes. Catering to all automotive owners Vogue Tyres are not just designed to perform, but to look good while doing it. Each tyre is designed to provide the perfect look and fit while not compromising performance or comfort. Vogue Tyre owners want to make a statement and owning a set of Custom Built tyres is an investment in your vehicle that separates you from everyone else.