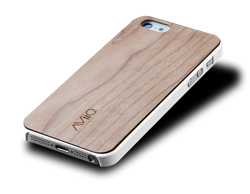 Santa Ana, California (PRWEB) September 30, 2013
AViiQ, an award-winning brand of fashion, technology and lifestyle accessories announces a complete line compatibility of all current AViiQ protective case solutions for the iPhone 5S following Apple's announcement last week. The already best selling case collections for iPhone 5 have been tested and confirmed to fit, enhance and protect the latest Apple devices, and are available now at aviiq.com and in select retail locations worldwide.
The entire lineup of iPhone 5S cases are constructed of durable, high-performance materials and includes a variety of bright colors and textures to complement the latest Apple devices. Product details include:
The AViiQ Thin Series
AViiQ's Thin series of iPhone 5S/5 cases is AViiQ's best selling and award winning iPhone case, designed to protect the Apple iPhone 5 or iPhone 5S in style. This case features a very fine textured plastic, giving this iPhone 5S/5 case a smooth satin finish. This super thin iPhone cover comes in at only 0.7mm in thickness making it not only ultra light but is also the thinnest iPhone 5S case available in the world.
The AViiQ Wood Trim Thin Series
AViiQ's Thin series of iPhone 5S/5 cases with real wood trim details is the newest addition to AViiQ's iPhone covers, designed to protect the Apple iPhone 5S or iPhone 5 in style. The Thin Series iPhone 5S case features a super thin wood veneer with a variety of high quality real wood textures. This super thin case comes in at only 1.4mm in thickness on the back and 0.7mm on the sides making it light but is also specially tailored to be the best fitting case compared to other iPhone 5S cases.
AViiQ is also proud to announce the addition of five new wood veneer and case color combinations including Green/Walnut, Yellow Maple, White Cherry, Black Maple, Blue Walnut. All available at AViiQ's introductory sale price of $19.99.
The AViiQ Leather Wallet Case Series
AViiQ's Leather iPhone 5S/5 wallet case is the newest addition to AViiQ's iPhone covers, designed to protect the iPhone 5S or 5 in style while doubling as a convenient wallet for carrying credit cards and ID's. AViiQ's iPhone 5S/5 leather wallet case features genuine sheep skin leather and has the award winning AViiQ Thin Series iPhone 5 Case integrated into it to give it a super low profile design, thinner than most wallet cases on the market today. It offers screen protection and privacy, and also can function as a iPhone 5S/5 stand.
AViiQ products comes with a 100% satisfaction guarantee, a full refund policy within 30 days of purchase and is available for $19.99 to $24.99 at http://www.AViiQ.com. For more information about this and the entire line of AViiQ products, contact PR representative Alan Yeung at alan(at)aviiq(dot)com.
Find it at these online retail partners: AViiQ.com, Lollimobile.com and Amazon.com.
ABOUT AVIIQ
AViiQ adheres to the tenet that form should follow function. Founded to create consumer mobile electronic accessories that maximize productivity through enhanced functionality and high-end design, AViiQ offers the finest in function and style. Laptops revolutionized the computer world by adding the freedom of mobility and AViiQ transforms that freedom into power. For more information about AViiQ, please visit http://www.AViiQ.com.
For additional information on this and other AViiQ products, please contact AViiQ PR at alan(at)aviiq(dot)com or at (949) 515-8840. Follow AViiQ at http://www.facebook.com/aviiq for current social updates.