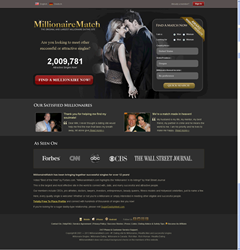 Los Angeles (PRWEB) September 29, 2013
Can money buy love? Well, some women participants in a survey conducted by MillionareMatch.com are willing to give it a shot. Over 167,840 women who were verified US female millionaires, questioned by MillionareMatch.com said they prefer to date men of their own age.
MilllionaireMatch.com is a singles dating site. The website says it has been bringing successful singles together for the past 12 years. The website has been rated "Best of the Web" by Forbes.com. It is "the largest and most effective site in the world to connect with, date and marry successful and attractive people," claims the website.
The survey also questioned America's wealthiest women on the preferred age range of their potential partners. While over 52,080 women said they would date with a man at most 5 years younger than themselves, only 5,019 said they would even date men younger than that.
These numbers dramatically change when the US female millionaires were asked about their dating practices when men are older than they are. About 126,708 said they would choose partners who are at least 10 years older. But only 1,551 said that they would choose ones who are at least 10 years older.
And how does MilllionaireMatch.com work? "Click here if you a millionaire or making $200,000 or more per year." That is a link you run into on the website's help page specifically stating that being wealthy is a key point in becoming a member on the website and get to date other successful people.
The site members include, "CEOs, pro athletes, doctors, lawyers, investors, entrepreneurs, beauty queens, fitness models and Hollywood celebrities," says the website on its contact page. The website invites all quality singles to sign up and become a member whether they are themselves millionaires or they are just simply interested to meet eligible and successful people.