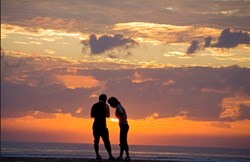 Los Angeles, California (PRWEB) September 30, 2013
Recently, MillionaireMatch.com, which is a dating site for millionaires, surveyed a random sample of nearly 61,000 of its members in order to discover the top 5 first date ideas and figure out the reason why these ideas are so popular for millionaires. According to the survey, top 5 first date ideas for millionaires are listed as below:
Top 1: Dining
Surprisingly, the survey by MillionaireMatch.com shows that 38 percent of millionaires prefer to have a romantic dinner or lunch with their match in an elegant restaurant. The atmosphere must be quiet so that they can have a conversation and get to know each other very well. Many of them also would like to dance or have a drink during dinner or lunch time.
Top 2: Coffee or Drinks
Approximately 26.03 percent of millionaires want to drink coffee or wine in a quite and cozy cafe or public place. Most millionaires agree that coffee or other drinks can break the ice and make them feel less nervous in the first date. That maybe the reason why people need to start first date with a cup of coffee or a glass of wine.
Top 3: Special Dates
About 8.31 percent of millionaires hope that their first date should be special and unique. Actually, there is no certain idea here. Some people wish that the first date is on beach; some say they can drive over serpentine road with a crazy speed and watch the stars go by; some wants to start the first date with a walk. So make sure that the date is special when dating a millionaire.
Top 4: Random Daytime or Nighttime Activities
Nearly 6.0 percent of millionaires dream that they can have random daytime or nighttime activities. Such as fishing, paint balling, horseback riding, playing golf etc. For them, the first date should be anywhere outside as long as they can chat with each other.
Top 5: Movies
There are 2.25 percent of people who think their first date would be nice if they watch the anticipated movies in the cinema. Not all people like touching movies. So it is necessary to know what kind of movie she or he likes before going to the cinema.