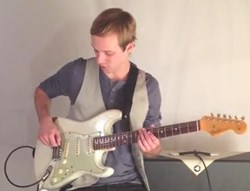 (PRWEB) September 29, 2013
In this electric guitar lesson, he demonstrates two flashy tricks for lead guitar that require no theory and no scales. They are the pick scrape and the slide.
The pick scrape is just what it sounds like. Scrape the edge of the pick along the length of a lower, wound string to get a sound similar to Edward Van Halen's introduction to "And The Cradle Will Rock" or in Lynyrd Skynyrd's "Call Me the Breeze." You'll also find pick scrapes used often in the music of Jimi Hendrix, Steve Vai and many other power players. Add a phase shifter to get the sound of a jet flying by.
Another trick is the guitar slide using a power chord. Imagine that the chord is a G power chord on the third fret. Instead of going right to the chord, start with a power chord several frets higher and slide quickly down to the G for a powerful effect.
Add both of these effects to your arsenal of flashy tricks that are great for adding accents and attention-getting.
Enjoy and learn more jazz lessons from Jon MacLennan, whose latest DVD is called "Fast Track Guitar System," and all the teachers at Guitarcontrol.com in video lessons at http://www.youtube.com/guitarcontrol.
GuitarControl.com, a leader in video music education, is the brainchild of Philadelphia guitarist Claude Johnson. Since 2004, it has offered online and DVD guitar lessons taught by experts in styles ranging from rock and metal to jazz and country to classical and fingerstyle acoustic, as well as courses for singers, drums, bass and keyboard, and music software, song collections and jam tracks.