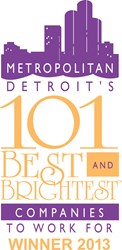 We want, and expect, you to make a difference, every day. Think big, work hard, make things happen.
Troy, MI (PRWEB) September 30, 2013
A collaborative culture, engaged workforce and powered by fun attitude are just some of the reasons why Billhighway was named a "Metropolitan Detroit Best and Brightest Company to Work For" this month. 2013 marks the third win for the company, with prior wins in 2010 and 2012. The Michigan Business and Professional Association (MBPA) presents the award annually to leading companies who clearly demonstrate why theirs would be an ideal place to work.
Everything Billhighway does grows from its Playbook, a collection of core values that course through every department, meeting, product, and team member. The company takes its "Powered by Fun" value to heart by indulging team members with cookies on their birthday, hosting office Olympics, recognizing a monthly All Star, and organizing experiential quarterly outings.
It's not all about fun and games though. Billhighway team members share in their passion to do more good by participating in the company's paid volunteer time off policy; helping out in the community or taking an hour out of their day to make sandwiches for the homeless. In the spirit of its satisfaction: never core value, the company developed Billhighway University, offering leadership, core skill and professional development training. 30% of open positions are filled through internal advancement, which the company attributes to its robust education and cross-training program.
Billhighway Client Relations Specialist David Finn sums up the Leadership Expected value best, "We are not a company where you need to get someone's permission to think. We want, and expect, you to make a difference, every day. Think big, work hard, make things happen.
The Billhighway team will be honored at an awards luncheon to be held on October 30, 2013, at the Henry Hotel in Dearborn, Michigan. The winning 101 companies also compete for 12 elite awards, with winners revealed during the luncheon. An overall winner that has excelled in all scoring categories will be honored with a "Best of the Best Overall" award.
About Billhighway (http://www.billhighway.co)
Billhighway, headquartered in Troy, Michigan, develops cloud-based automation software that makes nonprofit financial management easier. Since 1999, we've helped our clients free up internal resources and focus more time on mission by increasing revenue, cash flow and the bottom line. Through a robust, rules-based engine that integrates payment processing, banking and accounting with existing systems, Billhighway provides a transparent, holistic view of your organization's finances so you can work smarter, not harder. Billhighway is recognized for award-winning customer service and industry-leading data security.
(# # #)