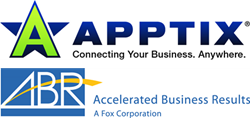 We have received great results from our Cloud Services Training Solution throughout our sales channels.
Herndon, VA and Cincinnati, OH (PRWEB) September 30, 2013
Apptix® (OSE:APP), the premier provider of hosted business communication, collaboration, and IT solutions, and Accelerated Business Results (ABR), a full-service, award-winning training company, have taken home the gold in the 2013 Brandon Hall Excellence in Learning Awards. The organizations were awarded the highest honor, the coveted "Gold" distinction, in the Best Extended Enterprise Learning Program category for their joint submission: "Apptix Cloud Service Training Solution." The category recognizes outstanding learning programs that were specifically designed for an audience other than internal employees.
"We're honored to be recognized by the Brandon Hall Group," said Amy Fox, President of Accelerated Business Results. "The Brandon Hall Awards uphold our commitment and capacity to deliver high-quality training. We've worked hard to develop compelling content and innovative learning solutions. Receiving this award is a perfect way to recognize our efforts and our partnership with Apptix."
Apptix and ABR partnered to design and develop the Cloud Services Training Solution for the purpose of creating a comprehensive, repeatable, and scalable sales training program that incorporated on-site, online, and on-demand training with interactive and measurement capabilities to enhance Apptix's direct and channel partners' sales efforts. The blended learning solution included e-learning, product videos, classroom training, and other supporting job aids and resources.
"Receiving a Gold Brandon Hall award is a tremendous accomplishment both for the Apptix team and those we worked with at ABR," said Joy Nemitz, CMO of Apptix. "Fully supporting our Channel partners is a key component of the Apptix strategy. We have received great results from our Cloud Services Training Solution throughout our sales channels, and it is very humbling to have those results reinforced by an award from such a respected organization."
The Brandon Hall Group Excellence Awards Program is thought by many to be the most prestigious awards program in the industry. Often called the "Academy Awards" by Learning, Talent, and Business Executives, the program was one of the first of its kind in the learning industry. Entries were evaluated by a panel of independent senior industry subject matter experts and practitioners.
About Apptix
Apptix (OSE: APP) is the premier provider of hosted business communication, collaboration, and IT solutions to business of all sizes – from small entrepreneurial business to Fortune 500 enterprises – and blue chip channel partners including Insight Enterprises, Inc., MegaPath Corp., Cincinnati Bell, Inc., Web.com, and Sprint Nextel Corporation. A pioneer in the hosted services space, Apptix has over 470,000 users under contract around the world. Apptix's comprehensive portfolio of Cloud solutions includes Microsoft Exchange, SharePoint, and Lync, as well as hosted VoIP, encryption, archiving, and mobile device management, among other business critical services. These services are delivered over a highly reliable network leveraging best-in-class technology, housed in SSAE 16-compliant datacenters, and backed by U.S.-based 24/7 support. For more information, visit http://www.apptix.com.
About ABR
Founded in 2001, ABR designs, develops, and implements customized training, e-learning, facilitation, and coaching solutions, as well as other interactive tools and programs. The company's focus on unique, quality solutions since its founding more than a decade ago has earned it industry recognition and helped to build an impressive list of clients. ABR was a finalist for Small Business of the Year in the 2013 Cincinnati Chamber of Commerce Small Business Excellence Awards, and it was named as one of the "Businesses WE Watch" by the Cincinnati Chamber's WE Celebrate Awards in 2012. The company is also certified as a women's business enterprise through the Women's Business Enterprise National Council (WBENC), the nation's largest third-party certifier of businesses owned and operated by women in the U.S. For More information, visit http://www.acceleratedbr.com.
See the full list of the 2013 Brandon Hall Group Excellence in Learning winners.