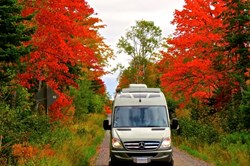 Oakland, MI (PRWEB) September 29, 2013
As Class B motorhome sales continue to drive this year's huge increase in RV sales, the popular Roadtreking Small Motorhome Lifestyle Blog (roadtreking.com) has launched an updated new forum to provide a place for Class B owners to ask questions, learn about do-it-yourself modifications and share the Class B experience with other RVers.
Mike Wendland, the network TV reporter turned RV enthusiast, says the Roadtreking forum meets a growing need for Class B owners.
"It's all about sharing the small motorhome experience," says Wendland, who started the parent Roadtreking blog in early 2012. "There is so much Class B owners have to share that having a dedicated place on the blog just for their comments and questions became a necessity. The forum lets us thread those conversations by topics and is easily searchable. Unlike Facebook or social media sites, the collected wisdom of the forum posters never goes away."
There are a variety of forum topics for Class B RVers to discuss and reference a wealth of community knowledge. Topics include boondocking, campgrounds, camping food, rallies, news, questions, photo sharing and much more.
Wendland says recent changes by Facebook in which only about 10-20 percent of the posts on a Facebook group or page are visible to the friends and followers prompted his new emphasis on a forum.
"If someone posts something interesting on the forum, it is viewable to all the forum members, not just a few. And it doesn't scroll off the page, either, like on Facebook. It stays accessible and lives on." The forum also has a search function so members can search past discussions on a topic of interest.
Although the Roadtreking name of his blog and forum seems to point towards Roadtrek Motorhomes, North America's largest Class B manufacturer, the forum is aimed at the owners of all Class B RVs, including those from Pleasure-Way, Leisure Travel Vans, Winnebago, Great West, Advanced RV and other manufacturers.
"What we are all about is the Class B lifestyle," said Wendland. "The convenient size and the mobility of Class B RVs allows us to go to certain places and do things that owners of bigger RVs can't do. To that extent, no matter what make of Class B you have, we're all the same."
For interviews, contact Mike Wendland by phone at 248-895-2786 or email at mike(at)roadtreking(dot)com.