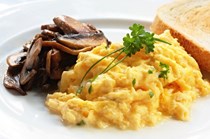 "Don't be fooled by the perception that skipping breakfast saves calories," says Dr. Aazami "Kick-start your day with one of these guaranteed meals to put you on the path toward weight loss success."
Canoga Park, CA (PRWEB) September 29, 2013
The weight loss experts at 101 Medical Weight Loss realize that the time of day meals are consumed can have an impact on weight loss. Many people avoid breakfast and eat their biggest meal of the day at dinner. 101 Medical Weight Loss wants to remind dieters that a key factor in weight loss is to make breakfast the biggest meal of the day. These healthy and delicious breakfast tips are sure to get you to the breakfast table.
According to Dr. Aazami at 101 Medical Weight Loss, "When it comes to the biggest meal of the day, America has it wrong. You've heard it before, but saving your largest meal for dinner isn't doing your medical weight loss plan any favors."
According to Dr. Aazami, upon waking, the body is ready for fuel to provide energy throughout the day. Recent research confirms women who ate a larger breakfast versus dinner lost more weight.
"Don't be fooled by the perception that skipping breakfast saves calories," says Dr. Aazami "Kick-start your day with one of these guaranteed meals to put you on the path toward weight loss success."
Veggie omelet: Start with two eggs, then mix in your favorite veggies (onions, red peppers, spinach, mushrooms, etc.). Eggs are chock-full of essential nutrients including a hefty dose of protein, and veggies will contribute an adequate dose of fiber and vitamins. Power breakfast coming right up!
Greek yogurt with mixed berries: Choose your favorite antioxidant-filled berry, and mix with plain Greek yogurt for a delicious breakfast treat. The sweet fruit mixed with tart yogurt has a dessert-like feel but is a great way to start your day! Not to mention you'll get a hefty serving of protein and gut-cleansing probiotics too.
Whole-wheat toast with almond butter: Almond butter is very similar to peanut butter with slightly less saturated fat. It clocks in at about 100 calories per tablespoon and is packed with healthy, monounsaturated fats and proteins. Spread on a piece of whole-wheat toast, topped with slices of banana for a touch of sweetness to hold you over until your next meal.
Smoothie: A smoothie makes an excellent meal, not a midday snack. Make sure you include a protein. Try avocado, plain kefir, low-fat yogurt, or one serving of peanut butter. Blend with your favorite fresh or frozen fruit for a refreshing and filling meal.
Incorporating these healthy breakfast recipes will fill you up, give you energy and help toward weight loss success.
For more information please visit http://www.101medicalweightloss.com/
About 101 Medical Weight Loss:
For more than a decade, The Center for Medical Weight Loss has been helping people to shed unwanted pounds through physician-guided programs. The company is known throughout the San Fernando Valley area for uniquely meeting the needs of patients through personalized plans. 101 Medical Weight Loss operates on the belief that safe weight loss results from healthy food and lifestyle choices, but provides the option of a safe appetite suppressant prescription when necessary. To discover what The Center for Medical Weight Loss can do for you, visit 101 Medical Weight Loss.com