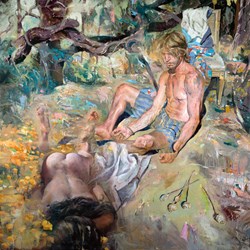 "One's personal language for picture-making has to be discovered and cultivated through sincere effort and passion for the thing, and thus naturally discovering one's voice." Kent Williams
Santa Fe, NM (PRWEB) September 30, 2013
Kent Williams has built up a formidable reputation as a powerful contemporary painter. His is a bold realism with combined attributes of abstraction and neo-expressionistic sensibilities. His work is characterized by strong gestural forms combined with areas of arresting detail, rendered with rich dynamic brushwork.
Williams' approach to his subjects is often subjective and intense. Whether through multi-figured compositional complexity and suggestive narrative, or with the straight-forward lone human form, there is often autobiographical narrative at play. Favorite models, friends, and the artist himself all play a role in the human story of his paintings.
"Arriving at an uncanny equipoise, his current paintings and drawings interweave the transitive states of dream and waking made in a heady mix of representational precision and breathlessly animated abstract gestures. Pure and simple, whether manifest as delicately jostled or fluently robust, Williams' revered strain of para-objective mark-making stages some of the most seductive narrative and formal play generated by any artist at work today."
Alex Ross, 2013
from the artist's monograph, Kent Williams: Ophthalm