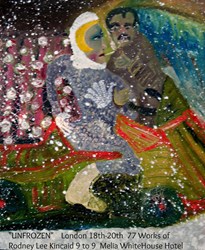 London, UK (PRWEB) September 30, 2013
Balmoral Capital Holdings Inc. has two divisions, Renewable Energy and the newly acquired Arts & Entertainment division, with partnerships around the globe, celebrating over 25 years of growth and innovation. Balmoral is a group of professional financiers who pursue mergers and acquisitions, film projects, Video game projects, clean energy, and renewable technology projects in need of financing.
Rodney Kincaid will be available for talks at in his first art exhibition called "Unfrozen" in London this coming October. "Unfrozen" is the compiling of 77 paintings by Rodney Lee Kincaid and will be available for viewing October 18th-20th from 9:00am-9:00pm. Location is at the Melia White House on Albany St, Regents Park, London NW1 3UP, United Kingdom. There will also be a reception after each showing to guests who contact Samuel Kincaid at samuel(at)balmoralfinancial(dot)com.
Kincaid will also introduce a new product for insurance and bank guarantee hedging for buyers and sellers for large Art portfolios. This will protect their investment in art and in some cases guarantee a return. "Traditional banks rely primarily on credit worthiness to determine whether, how much, and at what cost to lend to a business" said Kincaid. "Unfortunately, the application-to-loan ratio is low. With mounting pressure for Art collection to have a guarantee end result and Balmoral is exploring way to do that with it client who have collection with 5 to 10 million euros."
Kincaid draws on 7 to 12 point canvases, and he has introduced stain, oil paint, acrylics, house paint and other mediums. He has also come to implement small mirror fragments in his characters' eyes sockets, and thusly, creating the effect that the viewer is seeing their own reflection in the subject's soul. His unique renderings are stretched, framed and currently hung in three galleries including, Gallery 19 at Kensington Court in Central London, the Daggett Gallery in the Notting Hill section of London and in his own Balmoral Art and Entertainment Gallery in Ohio.