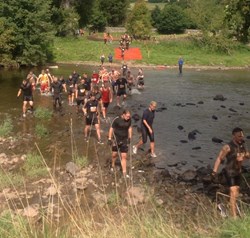 It was a fantastic day- after we had finished
Bristol (PRWEB UK) 30 September 2013
There is a growing craze in the UK for tackling hard core physical events, from triathlon to marathons. However few are tougher than the Tough Mudder, a 12 mile course with a range of Special Forces design obstacles to push its participants to their limits. 1 in 4 starters do not finish!
The event is a fantastic opportunity for groups of friends or work colleagues to come to join together and work in close teams to conquer the course. One team taking part in the Tough Mudder's recent event in the South West at the Glanusk Estate, was from ISL Recruitment.
The Bristol based Recruitment firm entered a team of 12 who took on and completed the course in a little over 3 hours. ISL's team was taking on the challenge in aid of 'Help for Heroes', the charity set up with to support our injured service personnel.
ISL Director Henry Keeys said 'It was a fantastic day from start to finish. Everyone in the team supported and helped each other across challenges such as swimming through ice baths, crawling through pitch black trenches and scaling 10 feet high walls. It was particularly nice knowing that whilst having the fun we had that we managed to collect well over £1000 for such a worthwhile cause'
ENDS
NOTE FOR EDITORS
For further information, please contact: Alan Furley or Henry Keeys (Directors).
Incite Solutions was founded in 2007 by two experienced recruitment consultants with the aim of creating an environment that supports experienced recruiters providing a comprehensive recruitment service to clients in a particular market or looking for a particular skills set . It has grown consistently since then and expanded into larger offices on an annual basis. ISL specialise in the recruitment of experienced professionals across sales and marketing, project management, IT and operations in the following sectors: financial services; technology; retail; public sector.