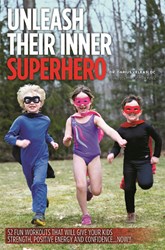 Orange County, CA (PRWEB) September 28, 2013
Childhood obesity rates have more than tripled over the past 30 years. In 1980, 6.5 percent of children between the ages of 6 and 11 were obese. By 2008 that percentage had skyrocketed to 19.6 percent. Pre-teens and teenagers (ages 12-19) saw a similar increase in obesity rates during that same time period: 5 percent to 18.1 percent. Dr. Darius Veleas, D.C. seeks to reverse this trend with his new book, out free on Kindle, called "Unleash Their Inner Superhero: 52 Fun Workouts That Will Give Your Kids Strength, Positive Energy, and Confidence… Now!"
These alarming statistics are having parents looking at their children and wondering how to get them in better shape. What tools can they give them so that they form a lifetime of good habits now, while they are still young? Is an exercise program for a child safe? Will it benefit your child?
The answer to these questions is simple: It is absolutely beneficial for children to start exercising now. But there are some things to keep in mind that Veleas covers in his new book. (As with any diet or exercise program, parents should check with their child's physician before getting started.)
It's important to remember that children are not miniature adults. They differ from us anatomically, physiologically, and emotionally. Therefore, parents should not use the same methods on a growing child that someone would on an adult. That's where Veleas' expertise comes in.
Veleas takes his 13 years of experience as a chiropractor and musculoskeletal specialist and has tailored an entire year of weekly exercise routines for kids that are age-appropriate, fun, and effective.
Veleas' book, is broken down into 52 weeks of simple, kid friendly workout routines. The book is laid out like a workbook so that the parent can make notes and comments about their child's experience with each specific exercise, noting which ones they like and which ones need improvement. In a stroke of genius, Veleas included links to his website which include "how-to" pictures for parents to use when they see an exercise they don't recognize.
For Saturday, September 28th, 2013, Dr. Darius Veleas' book is being made available for free as a Kindle download from Amazon. The book is available here: http://www.amazon.com/Unleash-Their-Inner-Superhero-ebook/dp/B00F5BVKGC/.