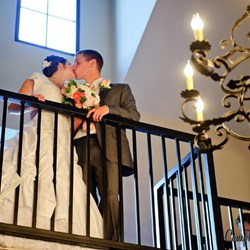 This was a beautiful place! Everything was perfect & met our expectations & more. Things were set on time, clean & looked beautiful. Thank you for everything.
Salt Lake City, Utah (PRWEB) September 30, 2013
Three local entrepreneurs who have spent their lives building a business selling garden supplies have now added a new aspect to their business. The owners of Western Gardens in Utah have opened doors to not one, but two new 5 star wedding venues.
Atrium Weddings reception center and Ivy House Weddings reception center have both received 5 star ratings from SaltLakeWeddingReviews.com for excellent service and stunning environment. In a Salt Lake Wedding Reviews interview; Michael Clayton, co-owner of Atrium and Ivy House was asked "what made you decide to build Wedding Venues after years of working in garden supplies?"
Michael responded: "Well, we already have buildings, and parking lots. It seemed like a logical business decision. Our only expense would be to build the reception center as an addition to our facility. Yes, our utility bill would increase, but everything else has already been paid for. This allows us to offer a 5 star wedding experience to brides for a fraction of the cost. We don't have to charge a fortune to make a profit."
What began as a smart business decision for three business partners is now making a difference to brides in the Salt Lake City, Utah area. Top notch service, two spectacular wedding locations and affordable pricing have brought Atrium and Ivy House more 5 star votes than any other wedding location in the state.
Whether you are looking for a wedding venue in Salt Lake City or anywhere else in America, there are affordable locations for your special day. Atrium Weddings is located in Sandy, Utah and is a popular and unique wedding venue for all brides. Click here to learn more about the Atrium.
Ivy House Weddings is located in downtown Salt Lake City, Utah and is one of the most sought after reception centers in the area. Click here to see photos of the Ivy House.