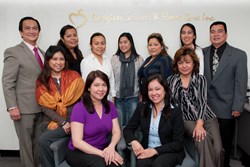 " Caregiver Services... Caring for Life "
Los Angeles CA (PRWEB) September 28, 2013
Caregiver Services and Home Care Inc. (CS) http://www.mycaregiverservices.com takes pride in participating at the Fall Prevention Awareness Week observed at Malibu Senior Center spearheaded by Theresa Odello, Recreation Coordinator. Theresa invited resource speakers Randy Clarito, Caregiver Services Director for Business Development and Training and Lloyd Hartley, Meadowbrook Senior Living http://www.Meadowbrook-Agourahills.com Community Marketing Director to share their professional experience and present topics on taking away the fear of the unknown and learn the best steps that can be applied to prevent falls, entitled 'To Fall... Or not to Fall?'
The various topics and speakers have all shared their knowledge and expertise to all seniors who participated and attended the sessions during the Fall Prevention Awareness week observed on the week of September 22 to September 26. Relevant topics were handled by resource speakers Dr. Priscilla Macrae, 'How to improve your balance; Dr. Caroline Cicero, 'Preventing falls in your home and surrounding environment' then Randy Clarito and Lloyd Hartley, 'To Fall... or Not to Fall?' All the resource speakers and Theresa Odello gave out handouts on Fall Prevention and Caregiver Services giveaways and service items were distributed to attendees.
Caregiver Services Director Randy Clarito had a discussion with Emily Dessem, National Council on Aging (NCOA) Senior Program Manager (Center for Healthy Aging) based in Washington, DC about his support to the advocacy of NCOA. Emily applauds the group and Malibu Senior Center for the great work they are doing with seniors in the community pertinent to the prevention of fall. Randy Clarito, also an advisory committee member for Council on Aging for four years and presently member of Council on Aging Recreation Committee had pledged to the National Council on Aging his commitment and Caregiver Services' support to their advocacy on helping the seniors improve the quality of life following some parameters and guidelines on safety and prevention of fall and other diseases. Emily Dessem endorsed Randy Clarito's group to the StopFalls Network based in Los Angeles, California and engaged with this network for other follow through program for seniors. The California Department of Public Health Supervisor Liza Cirill responded to Randy Clarito and gave some names at USC that can collaborate for some senior programs relevant to their aging process.
About BCT Group of Company headed by CEO Belina Calderon Tagarao:
Caregiver Services and Home Care Inc. (CS) http://www.mycaregiverservices.com is a premier In-home care service company that provides professional private care duty to seniors and adults requiring assistance in their home and healthcare needs for the past 10 years. The company is run and managed by healthcare Executives with local and international training with combined top level executive work experience of more than 40 years. CS is the only In-Home Care company that has its in-house 'Caregiver University' in Southern California area that provides professional caregiver training held at its Los Angeles head office. CS is a Certified Member of CAHSAH, California Association for Health Services at Home and operates in Los Angeles County, Orange County, Ventura County, San Fernando Valley, San Bernardino County and Santa Barbara County area. Free evaluation and consultation, call #213-351-9100, #805-338-8100, #310-779-6254 and #562-412-2420.
L.A. Jobs Employment Agency
The leading career and visa specialist in Los Angeles for foreign professionals. L.A. Jobs http://www.lajobsea.com provide more opportunities for international workers who are highly qualified professionals and competitive to be able to build their career in the U.S. The company had successfully placed hundreds of applicants in the past few years even during the period of recession and it had attained a high approval rate of H-1B work petitions and green card of applicants enabling them to take the path to citizenship through employment and live the American dream. The company aims to be the premier leader in the employment industry in the U.S. Visit for free consultation and look for Mari Reola, HR Manager and Pam Sison, Legal and Marketing Specialist or call at #213-351-9100.
Summit Medical Billing
A fast growing Medical Billing company that helps physicians and other medical and healthcare companies obtain payment from insurance carriers and patients by effectively handling insurance claims and aid them to manage their practice and finance side efficiently. Summit Medical Billing aims to establish a strong alliance with the American Medical Association and continue to provide help to their members increase their revenue with the efficient handling by the company's billing expert. Call for free evaluation and consultation at #213-351-9100.