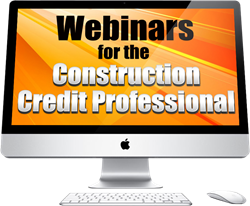 "These webinars discuss high level accounts receivable and collection problems while providing practical information that will help a company's bottom line."
New Orleans, Louisiana (PRWEB) September 30, 2013
On Wednesday, October, 2nd, zlien will kick-off a month long webinar series for credit managers, controllers, and CFOs in the construction and building materials supply industries. The webinars analyze credit and collection challenges unique to credit professionals in the industry. Each webinar is conducted by experienced credit and mechanics lien law attorney, and zlien CEO, Scott Wolfe.
"Credit professionals in the construction and building supply industries must not only manage typical credit and collection challenges, but also those challenges unique to this complicated industry," says Wolfe. "These webinars discuss high level accounts receivable and collection problems while providing practical information that will help a company's bottom line."
It is free to register for the webinars which were created with busy professionals in mind.
"We're very sensitive to people's schedule and understand these things can become boring," says Wolfe. Each webinar presentation is just 15 minutes long, focusing on one high level topic at a time. After the presentation, there will be an opportunity to ask questions.
The webinars are conducted every Wednesday afternoon at 1pm CDT during the month of October. Register for any of the webinars here: Webinars for Construction Credit Professionals.
The webinar topics include:
Navigating Financial Risk in a Rebounding Economy, Oct. 2nd 1:00 pm CDT
Instantly Clean Up Your A/R: A Fool Proof Plan With Clear ROI Notices, Oct. 9th 1:00 pm CDT
Notices of Intent To Lien: The Secret Weapon To Get Paid, Oct. 16th 1:00 pm CDT
Joint Check Agreement Mistakes That Can Cost You Thousands, Oct. 23rd 1 pm CDT
Shifting Financial Risk: Take Your Company's Neck Off The Line, Oct. 30th, 1:00 pm CDT
"It's critical for companies to have some kind of larger credit policy and financial risk mitigation plan. The webinars aim to educate professionals about the nuances of these plans, and tools like mechanics lien rights that can make the difference between getting paid and not," Wolfe says.
A licensed attorney in six states, Wolfe advises enterprise sized construction and building supply companies about credit risk and lien compliance. He is a contributing author at The Lien and Credit Journal, Credit Today, Construction Executives Risk Management and the Funding Gates blog.
About zlien
zlien provides software and services to help building supply and construction companies reduce its credit risk and default receivables through the management of mechanics lien and bond claim compliance. Founded by experienced construction attorneys, zlien is the leading publisher of mechanics lien and bond claim resources and analysis, and has led the industry in innovating credit risk management solutions by utilizing the lien and bond claim laws. Learn more at http://www.zlien.com