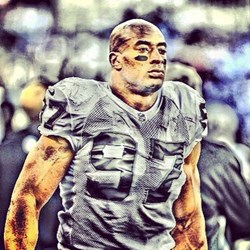 NFL great Andre Carter, who has played for the San Francisco 49ers, the Washington Redskins, the New England Patriots, and Oakland Raiders, uses MD Apothecary supplements to aid in recovery from injuries and maintain peak performance.
Westlake Village, CA (PRWEB) September 30, 2013
On Sunday, December 18, 2011 while playing against the Denver Broncos, NFL great Andre Carter tore his left quadriceps tendon and missed the remainder of the 2011 regular season as well as the playoffs, as he underwent surgery. The recovery from this was a long, tough road and Andre Carter feared he would never play again. With perseverance and a lot of hard work, Andre Carter recovered well. Andre started using MD Apothecary during his recovery and found it to be a huge help with his healing process, energy and an aid for pain relief.
To this day, his regimen includes MD Apothecary Strong System, a supplement that has every vitamin and mineral that your body needs which gives him great energy and an overall feeling of good health. He also takes Strong GI, a once-a -day probiotic that requires no refrigeration, which works well when used in conjunction with other supplements and/or antibiotics. Strong GI provides natural support for a healthy balance in the gastrointestinal tract. In addition, he uses Strong Joints 1 and Strong Joints 2. Strong Joints 1 is popular with many people. It contains Glucosamine, a chondroprotective agent that is a major building block of both cartilage and joint fluid. It also has Chondroitin Sulfate, in which oral doses are shown to reach the joint and bolster the function of cartilage, and as such, act as a natural shock absorber for the joint. Last, used as a safe, high potency booster for any supplement regimen, MSM, in Strong Joints 2, is a natural resource for sulfur, which is beneficial for the overall balance of health. It helps to generate healthy cells and is crucial for the production of amino acids, the building blocks of protein in your body. Sulfur is also important for the repair of tissues damaged by injury, free radical attack, aging, etc.
Andre has been quoted as saying that he will continue to use these supplements until the day he dies!