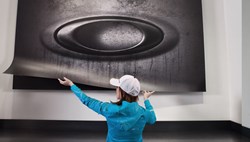 Visual Magnetics is a system that uses magnetic-receptive technology to allow for graphics to be displayed, moved, and easily updated.
(PRWEB) September 30, 2013
Massachusetts-based grand format printer Grand Image, Inc. has emerged as one of the earliest providers of MagnaMedia® Micro-Iron® Print Media graphics for the emerging, patented graphics display system, Visual Magnetics.
Visual Magnetics is a new magnet-based method for displaying graphics that has the potential to revolutionize quarterly marketing display practices in the retail industry. Using a three-component system, Visual Magnetics makes it possible to apply high-quality large format graphics to any surface at a retail location. Because magnets, not hardware or rigid substrates, are used for this graphics display, the images are installed with ease and can be moved around a space with little to no effort or disruption.
Grand Image, Inc. is one of the first American print companies to provide printing on the MagnaMedia® Micro-Iron® Print Media, which is used exclusively in the Visual Magnetics system. MagnaMedia® Micro-Iron® Print Media is extremely thin, making it even more of a practical choice for quarterly marketing displays due to low shipping cost and ease of storage.
The Visual Magnetics offering joins a host of other exciting printing services to be recently added by Grand Image, Inc., including liquid lamination, direct to substrate printing and laser cutting and engraving. The grand format printing company is also known for its extensive list of services that includes dye sublimation and large format roll-to-roll graphics for billboards, banners, posters, and fabric graphics.
Grand Image, Inc. works with resellers of large format digital products. The company is based in Hudson, Massachusetts and was founded by Eli and Leah Luria in 1996.