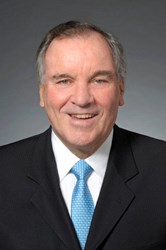 Richard M. Daley was the key driver [of Chicago which] continues to draw and evolve the talent and investment to continue this legacy of the mayor.
Chicago, IL (PRWEB) September 29, 2013
Chicago has been ranked in the top ten lists of numerous worldwide economic rankings over the last year or two. Much like most other endeavors, this takes decades of commitment, focus and hard fought support to achieve. The Association for Corporate Growth in Chicago is proud to announce that former Mayor Richard M. Daley will accept this year's Lifetime Achievement Award for his central role in the success of Chicago as a world economic center, leading living center and entrepreneurial engine. It is fitting that he will be honored at the Midwest ACG Capital Connection which gathers over 1,000 of the leading corporate investment professionals in the country on October 22 at McCormick Place West.
Richard M. Daley served as Mayor of Chicago for 22 years, from 1989 to 2011, and is the longest serving Mayor in the City of Chicago's history. During his two decades as mayor, Chicago was transformed into a prominent player in the global economy. Standard & Poor's now ranks the city among the world's Top 10 Economic Centers, and in 2010 Foreign Policy magazine ranked Chicago number 6 among global cities worldwide. Mr. Daley earned a reputation—both in Chicago and around the world—for improving Chicago's quality of life, acting to improve public schools, strengthening its economy and helping Chicago become among the most environmentally friendly cities in the world. It also most recently was ranked number 8 in the world for startups; promising continued growth and a strong legacy.
In 2011, Mr. Daley joined Katten Muchin Rosenman as Of Counsel to the firm. He also was appointed Distinguished Senior Fellow at the University of Chicago Harris School of Public Policy, where he coordinates a guest lecture series that brings policymakers from around the globe to debate critical urban policy challenges and helps train future policy leaders at the University. President Barack Obama also appointed him co-chair of 100,000 Strong Initiative, which aims to increase dramatically the number and diversify the composition of American students studying in China as a means to enhance people-to-people ties between China and the United States.
Additionally, Mr. Daley was named senior advisor to JP Morgan Chase, where he chairs the new "Global Cities Initiative," a joint project of JP Morgan Chase and the Brookings Institution, to help cities more effectively compete in the global economy. He has been chosen as a Harvard University Institute of Politics Visiting Fellow; serves on the
Board of Directors of The Coca-Cola Company; and, is a co-chair of the Chicago Council on Global Affairs Midwest Task Force on Immigration.
"Chicago is recognized worldwide for its 21st century platform of economic development. Richard M. Daley was the key driver of this where a less accomplished leader would have been happy with surviving in the Midwest over the last few decades. The country has benefited by the continued evolution of such a strong, diversified urban center that is home to over 400 major headquarters, employees over 4 million employees, generates over $500 billion of gross revenue products, is a model for modern urban living, and continues to draw and evolve the talent and investment to continue this legacy of the mayor." notes Craig Miller, ACG Chicago CEO.
For more information on the Lifetime Achievement Award and the Midwest ACG Capital Connection or the numerous investor forums and networking presented throughout the year, call 877-224-6389.