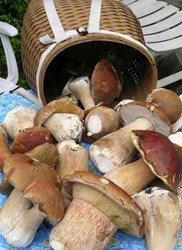 Long Beach Peninsula, Wash. (PRWEB) September 30, 2013
Renowned chefs and innkeepers on Washington's Long Beach Peninsula once again will present the Wild Mushroom Celebration from Oct. 1 through Nov. 15, 2013. Held during the height of fall's local mushroom season, the event is comprised of multiple special dinners, classes and talks, as well as featured wild mushroom menu items at participating restaurants.
Starting things off, Jeff McManus, chef/owner, Pelicano Restaurant, Ilwaco, will offer a Cooking Class – "Wild Mushrooms: More fine ways to use our local miracle from the forest floor" on October 6 at 1PM. Cost is $35 per person. Call 360.642.4034 for details.
As part of the restaurant's tenth anniversary festivities, The Depot Restaurant in Seaview will host its 10th Annual Wild Mushroom Dinner on Friday, Oct. 11, with Oregon's Blakeslee Vineyards. Owners Sheila and Bill will be there to share their Burgundian-style, estate wines. Seats may be reserved by calling 360.642.7880.
That same weekend, Boreas Inn will partner with Pelicano Restaurant and forager Veronica Williams for a two-night Wild Mushroom Celebration Weekend Package. The package includes brunch and a four-course "Wild Mushroom and Wine Dinner" at Pelicano on Saturday, Oct. 12, as well as Boreas Inn's traditional six-course "Wild Mushroom Celebration Brunch" on Sunday, Oct. 13, with guest host Veronica Williams, professional forager and owner, All Wild. For additional details, pricing and to make reservations, please visit http://www.boreasinn.com or call 360.642.8069.
Veronica Williams will host a free, casual Wild Mushroom Discussion in the Boreas Inn living room on Oct. 13 at 11AM. The discussion is open to the public, and seating is limited. To reserve a seat, please call Boreas Inn at 360.642.8069.
The Shelburne Restaurant will present its 4th Annual Wild Mushroom and Pike Brewing Co. Wild Mushroom and Beer Dinner, on Friday, Oct. 25. Pike Brewing Co. founders, Charles and Rose Ann Finkel will be there to share tales of ales as well as their brewing expertise. The restaurant's Chef Team of Robert Erickson and Darcie Grass will artfully pair a variety of Pike's beers with multiple courses, featuring a bounty of fresh, locally harvested wild mushrooms. The popular event offers limited seating; early reservations are suggested. Call the Inn at 360.642.2442.
During the Wild Mushroom Celebration on Nov. 8, The Depot Restaurant will also present a Lewis & Clark Wild Game Dinner with well-known Owen Roe Winery sharing their estate grapes from Washington and Oregon. Chef Michael Lalewicz will tap into the Lewis and Clark journals to design the evening's menu of game and local foods The Corps used and studied, including mushrooms, camas, and more.
The Depot, The Shelburne, Boreas Inn and Pelicano along with Jimella & Nanci's Market Café, 42nd Street Café & Bistro, Pickled Fish and Lost Roo will also feature wild mushrooms on their menus throughout the festival.
Among the edible wild mushrooms found in Pacific County and on the Long Beach Peninsula are the following: Angel Wings, Boletus (including Porcini), Canary, Cauliflower, Chicken of the Woods, Coral, Golden Chanterelle, Hedgehog, Honey, Lactarius Deliciosus, Lobster, Matsutake, Meadow, Oyster, Prince, Puff Balls, Red-Capped Scaber Stalk, Scaly Inky Cap, Shaggy Mane, and Slippery Jack.
Located on the southwestern-most coast of Washington State, the Long Beach Peninsula is rich in tradition, raw beauty and award-winning lodging and dining establishments. Surrounded by the Pacific Ocean, Columbia River and Willapa Bay, this coastal destination is a refuge for migrating birds and people seeking the solace of a seaside retreat. For destination information, contact the Long Beach Peninsula Visitors Bureau at 800-451-2542 or access http://www.funbeach.com.