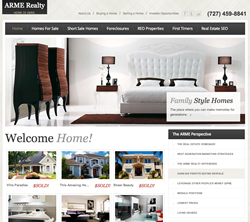 We are a complete realty SEO service that focuses specifically on real estate and the marketing needs of buyers, brokers, investors, and the likes.
Clearwater FL (PRWEB) September 28, 2013
A Florida marketing company for real estate agents has announced their latest iteration of their web development toolkit with built in property manager system. Their recent release of V3 of their highly regarded Web Development Toolkit has now been paired with a top tier property management system that is alleged to be one of the most powerful web development systems for real estate professionals in the marketplace today. The company's latest tools are designed to provide local advertising for real estate agents at a level once unachievable.
Rising costs of advertising for real estate agents means higher costs for customer acquisition. This is why ARMERealty.com has created what they call the "ultimate solution for the real estate SEO practitioner" and has been designed with the ultimate goal of lowering customer acquisition cost while simultaneously increasing the number of qualified leads into a broker's pipeline.
Simon Landers of ARMERealty.com said, "We offer a comprehensive realty SEO service that focuses on the task of growing a large, profitable, and highly relevant website for real estate professionals. Many SEO companies are focused too much on outside ideas and generally neglect the importance of ranking a realtors website. That is where we are different. All we do is real estate SEO marketing in targeted areas. Our principals have experience in multiple facets of the industry including development, title, short sales, and search engine optimization."
"A good SEO strategy in today's search environment requires heavy development around what the industry refers to as 'long tail keywords'. These are highly targeted keywords that define a property type, city, zip code, neighborhood, etc. What we've done is combine our toolkit which capitalizes on these long tails and combines that with a multiple listing property management engine. This makes it easy for realtors to showcase their listings online and market them simultaneously", continues Mr. Landers.
For more information about ARME Realty.com's real estate SEO services visit the website or call (727) 459-8841.