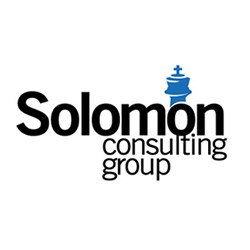 Our goal is to encourage more women to stay in the industry, to equip those who are just starting out to make an impact, and to eliminate gender bias.
Overland Park, Kansas (PRWEB) September 30, 2013
A group of Kansas City business women formed Kansas Women in Technology (KCWiT) in July 2013 to encourage more young female professionals to take positions in IT, and to enable those already in the industry to thrive. To help the organization achieve these aims, Solomon Consulting Group is partnering with KCWiT, providing career advice, mentoring and technical staffing expertise.
As part of this commitment, Solomon founder Grant Gordon delivered the keynote speech to a KCWiT event on September 26 at a 'TechTalk' event in Overland Park, Kan. hosted by Netsmart, which helps its clients transform patient care with innovative clinical and hosting solutions.
Gordon explained the motivation for Solomon's partnership with KCWiT:
"Research shows that 56 percent of women in IT dropped out in the last decade, which shocks me," he said. "Our goal is to encourage more women to stay in the industry, to equip those who are just starting out to make an impact, and to eliminate gender bias."
During his presentation, Gordon shared research-based advice on how female IT professionals can better define, increase and represent their true value to potential employers. This focused on what he defined as the "4 Be's": Be confident, be knowledgeable, be persistent, and be ready to walk.
Following his address, Gordon led attendees in a breakout session that provided practical advice for pursuing a career in IT consulting. Meanwhile, his colleague Karen Blue, Vice President at Solomon, reviewed résumés and offered constructive feedback for improvements.
As part of their presentations at the KCWiT event, the Solomon team explored how gender-based inequality persists in IT, and how women can overcome this bias. While employers are prohibited by law from discriminating against women, their female employees still make less. The Solomon team's daily experiences with technical staffing show that women often ask for lower salaries, which stacks the negotiating deck against them. Solomon is helping women overcome this issue with mentoring and education.
"We've found that women in IT make 10 to 12 percent less than men, and that shouldn't be the case," said Darci Crow, Director of Strategic Consulting at Solomon. "We want women to embrace their true worth and to ask for the compensation they deserve, instead of selling themselves short and thinking job opportunities come from luck."
Solomon's support for KCWiT members is already paying off. Crow recently mentored a young woman to prepare her for a career in technology, and then secured interviews with two prospective employers. One of these led to an offer, which the candidate accepted.
About Kansas City Women in Technology
KCWiT's mission is to inspire young girls to join the technology field and help shape career opportunities through educational workshops, provide mentoring for young women entering the workforce, and to maintain a network for professional women in technology career paths in the Kansas City area. Learn more at http://kcwomenintech.org/.
About Solomon Consulting Group
Solomon Consulting Group is a specialist provider of Business Intelligence (BI) solutions, Business Process Improvement (BPI) consultancy, technical staffing solutions and strategic consulting. Solomon's goal is simply to make their client's information technology departments better with their comprehensive solutions in staffing, reporting, analytics, process and software development. Solomon, named to the 2013 Inc. 500 list of fastest growing companies, also provides staffing services and consulting for professionals making a career change. For more information, visit http://www.solomonbi.com.