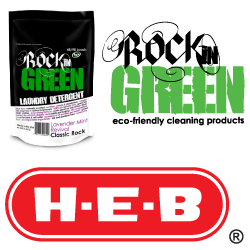 San Antonio, TX (PRWEB) September 30, 2013
Rockin' Green, a San Antonio based company, has landed hometown major grocery chain HEB, as a new retailer of their laundry detergent line. HEB offers a large selection of natural products in a number of their stores and Rockin' Green is excited to be included among the offerings.
"It always seemed like a natural fit for us," commented Rockin' Green CEO, Kim Webb. "We started in Texas and this is a major step forward for us as a company in terms of exposure and opportunity." HEB will be carrying the eco-friendly laundry detergent in 13 store locations throughout Central and South Texas. A store location map can be found on the Rockin' Green website at http://rockingreensoap.com/find-a-store/ for more store details.
Rockin' Green is available in nearly 400 retail storefront and online locations throughout the U.S and globally including, the United Kingdom, Australia, Canada, Malaysia, Dubai, South Korea and South Africa
The Rockin' Green family of products is specifically made without harmful ingredients such as phosphates, optical brighteners, dyes, SLS, or Paraben. As a gluten and vegan friendly line they are an excellent choice for those with allergies or sensitivities. All products are biodegradable and come in recyclable packaging.
About Rockin' Green:
Founded in 2009, Rockin' Green has quickly grown to be a favorite among moms looking for an eco-friendly and economical option in green cleaning. The product lineup includes the 2012 About.com Reader's Choice Winner for favorite Laundry Detergent, as well as complimentary products made specifically for cloth diapering, pets, and air deodorizers.