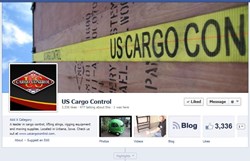 Social media is becoming increasingly important in our marketing efforts, particularly Facebook.
Urbana, IA (PRWEB) September 30, 2013
US Cargo Control, a leading e-commerce retailer specializing in supplies for the transportation, moving, rigging, and lifting sling industries recognized its customers in the trucking industry recently with a Facebook photo contest during National Truck Driving Appreciation Week September 15-21.
The company's Facebook fans were encouraged to send in photos of their truck to become eligible for a drawing to win a $100 US Cargo Control gift card. Several photos were received, and the winning entry was randomly drawn on September 23rd.
Sarah Barron, US Cargo Control's VP of Marketing, says the growing business is ramping up its social media presence as a way to better reach its customers. The company has gained more than 3,000 Facebook fans in past six weeks through a combination of increasing its number of relevant posts, as well as utilizing the promotion of posts.
"Social media is becoming increasingly important in our marketing efforts, particularly Facebook," said Barron. "It's a great way for our customers to share tips and advice with one another, as well as allow us to share information about new products, include links to our blog, and share industry news, such as with National Truck Driver Appreciation Week."
National Truck Driver Appreciation Week is held each year to show appreciation for the 3.1 million professional truck drivers that deliver the country's freight securely and safely. This year marks the 25th anniversary of the event, sponsored by the American Trucking Association (ATA).
Flatbed trailer products and van trailer products make up a large percentage of US Cargo Control's annual revenue, so Barron says a contest designed for its transportation industry customers was a great way to connect on a more personal level.
"We love hearing from our customers and Facebook fans, so encouraging them to send in their truck photos for the contest was a great way to open those lines of communication," said Barron. "We're looking forward to more promotions and activities on social media so that we can continue to get to know our customers and ensure we're offering the products they're looking for."
###
About US Cargo Control
US Cargo Control is a leader in cargo control industry, specializing in lifting slings, cargo control, rigging equipment and moving supplies. Focused on offering quality products, timely delivery, and an excellent customer experience, customers can purchase products on the company's website, http://www.USCargoControl.com or by phone at 866-444-9990.