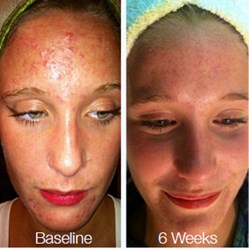 (PRWEB) September 30, 2013
Precision Aesthetics, New York's premiere go to Doctor's office for minimally invasive solutions for face and body, is constantly researching the latest technologies. The practice is inspired and directed by Occuloplastic surgeon Dr Lisa Zdinak, who is constantly researching worldwide for the best solutions for her clientele. The clientele literally span the US from NY to LA, and the globe from Russia to China and the Middle East. Given its clientele of actors, models, investment bankers, and Royal families, it is imperative to search for the optimum solutions for every condition. The past few years has seen amazing strides in the area of acne and facial care. Some of the greatest advances in acne and facial care have come from one company, Envy Medical. In fact, Envy Medical is the source of another unique product, Lumixyl, a tyrosinase inhibitor. Unlike hydroquinone it blocks the amino acid from forming dark spots in the first place. Lumixyl was actually the result of research at Stanford University.
After visiting hundreds of companies at the AntiAging Congress in Monte Carlo and watching demonstrations by no less than 20 different companies, Dr Zdinak chose SilkPeel dermal infusion. It simply had no equal when it comes to the area previously referred to as microdermabrasion. However unlike microdermabrasion, silkpeel consists of diamond brushes for exfoliation and vitamin dermal infusion simultaneously. The combination delivers unsurpassed results. The choices of infusions include antiaging and wrinkle reducing, vitamin infusions and acne solutions.
This year, Envy medical released a breakthrough product for acne, the ClarityMD Acne Solution. Silkpeel alone, given its two pronged approach of exfoliation and infusion was already delivering terrific results. ClarityMD brought an even greater level of success for some of the most difficult cases. In fact, recent clinical studies on ClarityMD have shown a 90% clearance of inflammatory acne within just the first 14 days. Great results come with either product alone as well as together. The appearance of residual scars are minimized by microneedling with the genuine dermaroller from Germany with reductions approaching 60%.
Dr Zdinak's Precision Aesthetics is located at 10 West 74th St, steps from Central Park. In addition to some of the more typical fillers, Dr Zdinak has been featured numerous times on television for growth factor fillers often referred to as Dracula or Vampire Face lift, popularized recently by Kim Kardashian. Precision Aesthetics is also New York's only Thermage Black Diamond and Pinnacle Award provider for non invasive body shaping and face lifting. Other accolades are New York's first Exilis for body shaping and Dr Zdinak did the original studies for Carboxytherapy for stretchmarks, cellulite and dark under eye circles. Precision Aesthetics was awarded Manhattan's best skin care for the past 2 years.