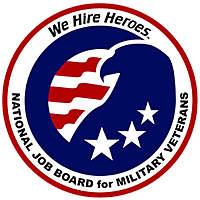 Raleigh, N.C. (PRWEB) September 30, 2013
Members of the military find a lot of surprises when they return to civilian life. The world seems chaotic after the order and organization of our armed services.
But two organizations that work to help members of the military through that transition are teaming up to make it easier.
The hCard® national discount card and WeHireHeroes.com job board for veterans have partnered together to make sure more members of the military can find jobs and save money.
"Veterans and former military members looking for a job are definitely thinking about their finances," said Lance T. walker, marketing director for We Hire Heroes. "The hCard is a national discount program, and anywhere we find a deal or a discount it will help make things easier on their wallets."
"It's a symbiotic relationship," said hCard founder Sandra Burnett. "The people we draw to the WeHire Heroes program can use hCard and, likewise, hCard users can refer their military friends to the We Hire Heroes job board."
Military members, veterans and their spouses can use WeHireHeroes.com to find employers ready to hire people with military job skills. The site ranks in the top 325,000 worldwide.
Walker, an Air Force veteran, said many members of the military are surprised at the challenges they face when returning to civilian life. The military is an insulated world, Walker said, and it's not easy find a job once outside.
"Some think, 'Oh, I'll just call this guy I know and get a job.' They don't realize how much effort needs to be put into the job search before they take that last check from the military," he said. "There is a real disconnect between how they believe the word works and how society actually functions."
Burnett is passionate about helping those who serve, which is why the hCard "Military Discounts app" is free for members of the military and veterans. The "Show and Save" hCard works like any other discount card in stores, restaurants, salons and much more.
"We hope to provide great savings to the men and women who give up so much to serve us every day," Burnett said.
About We Hire Heroes
We Hire Heroes is a group of military veterans who want to ease the transition for those leaving military service. Rather than trying to be the world's biggest job board, "We Hire Heroes" is a network of local job boards that provides veteran-friendly employment opportunities, resources, and coaching for military veterans in their local communities. For more information, visit wehireheroes.com.
About The hCard
The hCard® is a nationwide membership program offering discounts at community-minded businesses. The hCard Mobile App is free for our military and veterans. Learn more about how to save hundreds of dollars per year at http://www.thehcard.com or go mobile by downloading "hCard Discounts" app.
How It Works: The "Show and Save" hCard works like any other discount card. Use the downloadable app or show the plastic hCard to receive a discount at participating local businesses, including restaurants, car dealerships, salons and more. Check the coupon on your phone app or search for partner businesses online using your zip code or city.
Where to Get It: Supporters can purchase the app for $19.99 from the iPhone and Android app stores (search for "hCard Discounts") or order The hCard at http://www.thehcard.com. When a $20 hCard is purchased directly from an organization, 100 percent of the funds are kept by the school or nonprofit organization, if purchased online, 50 percent of the funds are immediately given to the organization selected by the purchaser.